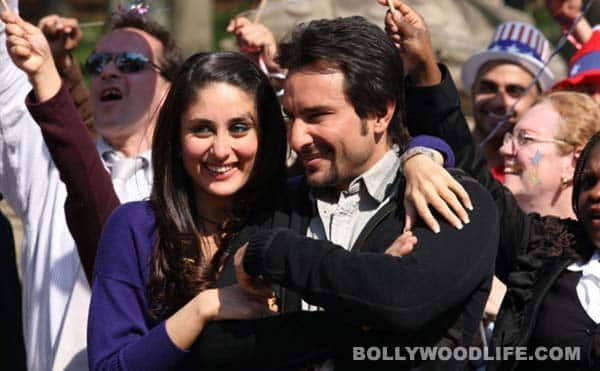 No, he's definitely not throwing a big bash like Karan Johar and inviting the who's who of B-town
Saif Ali Khan turns 42 on August 16 this year, and as always he will keep it simple, but not without style! The new Nawab of Pataudi and his to-be begum Kareena Kapoor will put aside their respective professional responsibilities (he will take a break from shooting of Go Goa in Mauritius and she'll put on hold her dubbing for Heroine) for a quickie.
No, not the kind your naughty mind conjures up! We are talking about a quick getaway – to a place far from the meddling media! Anyway, Saifeena are headed for a five-day holiday to the Queen's city (London) to celebrate the Cocktail star's birthday.
What will the couple in love do at the international destination? The couple is all set to book a luxurious room in one of their favourite hotels, go for long walks at Hyde Park, and catch a Broadway show of either an ostentatious drama like The Phantom of The Opera or something fun and frothy like Billy Elliot The Musical! Basically, the superstars' intend to do what they obviously can't do in the capital city of Bollywood (Mumbai). How do we know the nitty-gritty of their plans? Don't Saif and Bebo always follow the same routine every time they are vacationing in their favourite city?
Well, all this is just grapevine buzz. For all you know, the once-media-friendly-now-elusive-couple may shock and surprise us with an entirely different itinerary while in London!