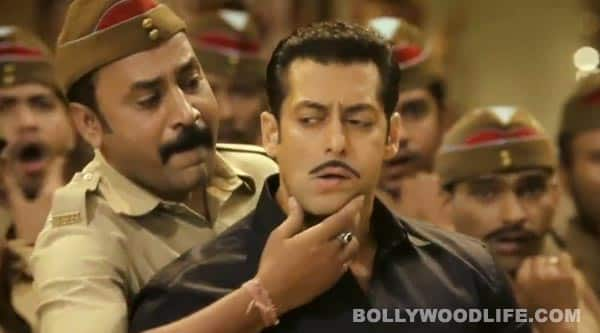 There's no denying that this B-town hunk has a body to die for. And the way he uses it in his masala songs leaves us speechless, even ROFLing at times. So after watching Sallu waggle away to glory in Pandey ji seeti maare from Dabangg 2, we wonder what he might 'move' next!
Some days ago we detailed Salman Khan's dancing ishtyle. Remember all the talk about wiggling pockets, biceps and what not? While that had us in unabashed giggles, we also assumed that the hunk had exhausted all his props and body parts – those that could be waggled in public, at least – to make an entertaining dance step. And guess what, Sallu sprang up and surprised us with his kick-ass (literally and figuratively) moves in the song Pandey ji seeti maare from Dabangg 2.
So what have we got here? Salman working magic with his fingers, flapping his pants to glory, flaunting his chiseled thumkas and – okay, this one takes the cake – making his facial muscles groove! Could we have asked for more?
But hey, talking about Sallu's facial prowess makes us wonder about the Dabangg dude's health troubles. 'Coz didn't we hear a while ago about Salman treating himself with acupuncture needles to do away with the pain on his face? Well, looking at Salman wriggle and twitch his face so vigorously (sometimes even gracefully) surely makes us conclude that the treatment indeed worked wonders.
Anyway, good for Sallu bhai, we say. But what next? After biceps, butt, cheeks, chin, fingers, shoulders now what? Toes? Stomach? Or…errr…pelvic thrusts with a twist?
While our imagination runs wild with what else our Dabangg Khan could do to keep us gawking with amusement, we quiz you, readers: What would you like Salman Khan to waggle next?