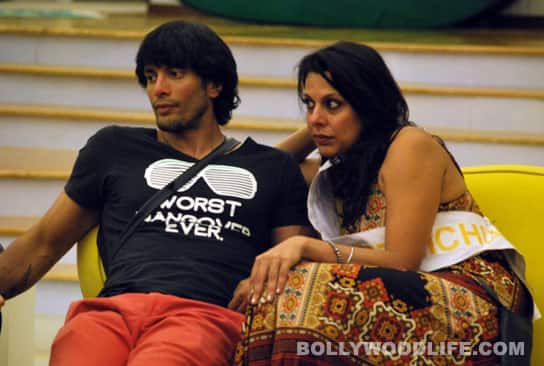 Bigg Boss season 5 has ended but the two good friends, Sky and Pooja, haven't forgotten each other. They continue to spend time off the screen
More often than not, friendships that begin inside the Bigg Boss house don't last once the contestants are out. But looks like Pooja Bedi and Akashdeep Saigal have become really good buddies after the show has ended. Remember during their stint in the house, most inmates were upset with Sky for his obnoxious behaviour, while Pooja constantly stood by him and supported him? It seems Sky is now out to return the favour, especially since Pooja was kept away from the finale for defending him. Or maybe the 'good friends' are contemplating taking their friendship to the next level? After all, the sexy Bedi ended up in a romantic relationship with her choreographer/partner Hanif Hillal after Jhalak Dikhla Jaa ended. Remember?
Anyway, the two have been hanging out with each other ever since the show ended a few days ago. First, they attended the launch of photographer Dabboo Ratnani's 2012 calendar, where they posed together for the media. They hung around for quite some time and were seen having an animated conversation. After making a public appearance, we spotted the two chilling at a suburban café the next day. Pooja was present with a few friends and Sky joined in after a while. But instead of spending quality time with each other, the duo got busy signing autographs, posing for pictures with fans and enjoying the attention. We did stick around to see if they indulged in any public display of affection, but we soon gave up as their outing turned into a meet and greet affair. Well, Pooja is quite outspoken and if there's something brewing between the two, we are sure Pooja will soon come out with it. Well, if nothing else, the duo will at least manage to grab some attention by hanging out together, right? Meanwhile, even as this deadly duo was seen in each other's company, we spotted the other loud contestant of the show, Pooja Misrra in an angry mood, yapping loudly with a young lad at a suburban five-star hotel. Just one piece of advice to the lady, maybe the next time she should keep her decibel levels low. Darling, you are not in the Bigg Boss house anymore!