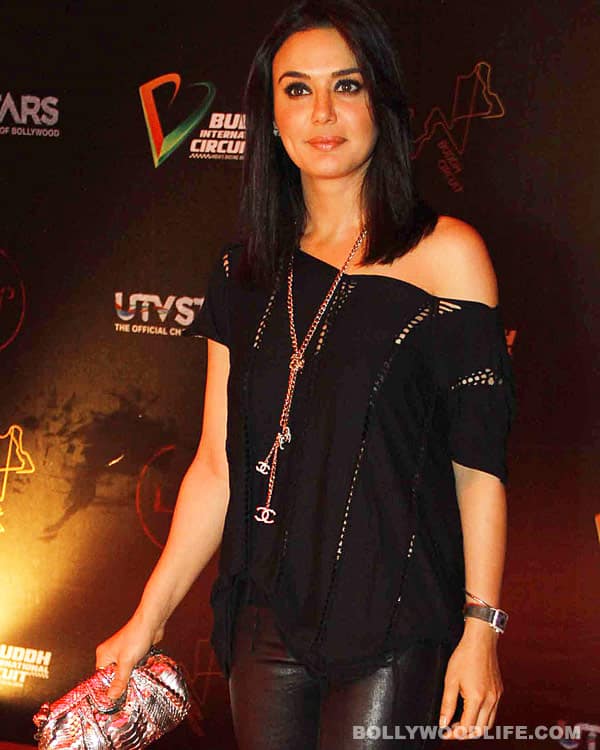 The dimpled babe of B-town is in a fix. And the problem this time happens to be her USP – the dimple!
Preity Zinta started shooting for her debut production Ishkq In Paris since February this year. And as per her declaration on the microblogging site Twitter, PZ plans to release the movie on September 21, 2012. But guess what, three months into the movie and the bubbly babe has run into a strange glitch.
Apparently Preity needs a four-year-old to play the role of her younger self in the movie. Sharing her quest with us she tweeted, "My casting agents are Looking 4 a 4-7year old girl who has 1 dimple on her right cheek & can play a younger me 4 my film Ishkq In Paris." A dimple on the right cheek? Ahem ahem. Now that's a tough one, right? And it certainly was!
Talking about her worry PZ said, "So difficult 2 find a little girl who looks like me thanx 2 the dimple on my right cheek ! Uuff ! Going crazy with that casting ! Grrrrrrr!" Tch tch!
The dimple has been Preity's USP since the time she set foot in the industry. And we're sure the actor never, even in her wildest dreams, imagined that her darling dimple would give rise to such technical difficulties. Right, Preity?
What's more, PZ – who sounds more desperate with each passing moment – has decided to launch an open campaign and is requesting help from tweeple. "If any 1 genuinely knows of any little girls that can play mini me (my younger role) pls send photos 2 ishqinparis.casting@gmail.com. Thanx," she posted on the microblogging site.
Dear Zintaji, while we empathise with your efforts to hunt down the perfect 'mini' you, we can't help but smile at this bizarre situation. Nevertheless, we suggest you keep your fingers and toes crossed, 'coz who knows, you might just find the li'l girl of your dreams before the day ends!