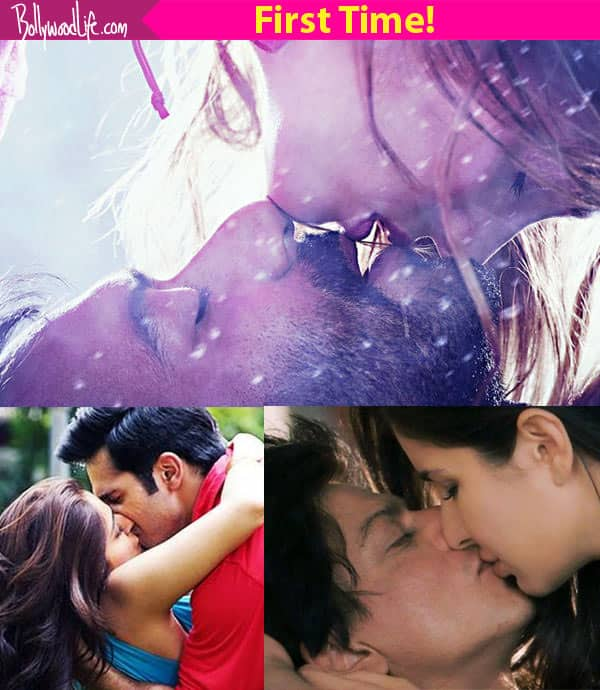 Ajay Devgn is, for the first time in his career, breaking his no-onscreen kissing policy for Shivaay, a film he is directing as well as acting in. The girl, who gets to break Ajay's Vishwamitra-like stance when it comes to kissing onscreen, happens to be the Polish actress, Erika Karkuszewska, who is better known as Erika Kaar. She plays Ajay Devgn's character's first love interest and later wife in the film. The kiss is said to be a part of a sensuous lovemaking sequence in the second song, Darkhaast, from the film, that will  come out soon. If rumours are to be believed, the kissing scene is said to be three minutes long! It's like Ajay is compensating for the lack of onscreen kisses in his career with this one itself. We have seen glimpses of the kiss in the trailer when Ajay and Erika loll around in a tent mid-air. Now we are waiting for the song to come out and see whether Ajay can give tough competition to his Baadshaho co-star Emraan Hashmi when it comes to puckering up on screen.
Ajay Devgn is not the first actor to have refrained from kissing onscreen for long before breaking his own policy for a movie. There is of course, Amitabh Bachchan, and then later Shah Rukh Khan, who had hesitations for kissing their heroines on screen, but later did it out of respect to the director or the scene. In this special feature, let's look at 10 popular male actors who have locked lips for the first time onscreen and for which film. Though you may not find Salman Khan in here… the man is still a 'virgin' when it comes to onscreen kissing!
Ajay Devgn in Shivaay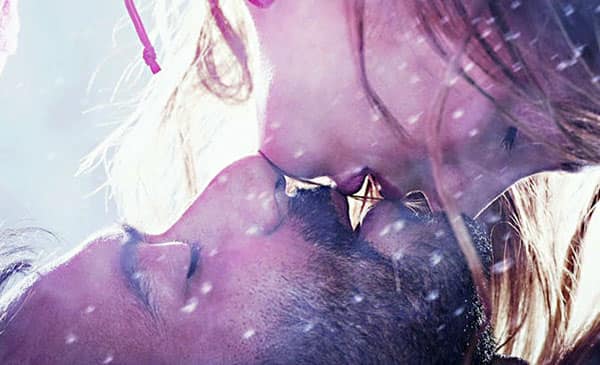 Ajay Devgn has done some hot scenes with Aishwarya Rai Bachchan (Khakee), Kareena Kapoor (Omkara and Satyagraha), Kajol (U Me Aur Hum), but this is the first time he is locking lips with an actress. We need to see what's there in Shivaay that he broke his own no-kissing policy, once the film is out.
Shah Rukh Khan in Jab Tak Hai Jaan
I believe there is a deleted scene in Maya Memsaab that has Shah Rukh Khan share a kiss with Deepa Sahi floating somewhere around, though the edited scene in the final film itself is scorching enough. However, his first official kissing scene happens to be for late Yash Chopra's swansong, Jab Tak Hai Jaan, with Katrina Kaif. Incidentally, he locks lips with the Baar Baar Dekho actress three times in the movie.
Akshay Kumar in Saugandh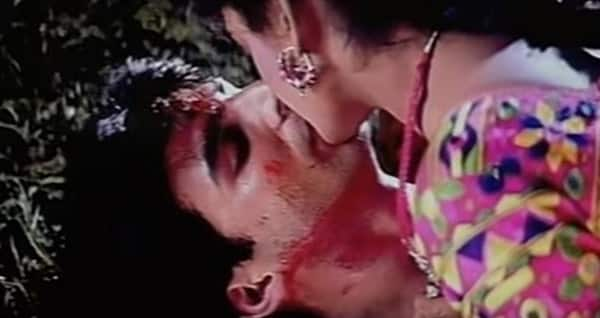 Akshay Kumar may not be seen kissing his heroines lately (in fact, he even had removed a kissing scene with Ileana D'Cruz in Rustom), however he had no such qualms in his early phase of career. His first film as a leading man had him share a peck on the lips with his leading lady, Shanti Priya.
Hrithik Roshan in Kaho Naa…Pyaar Hai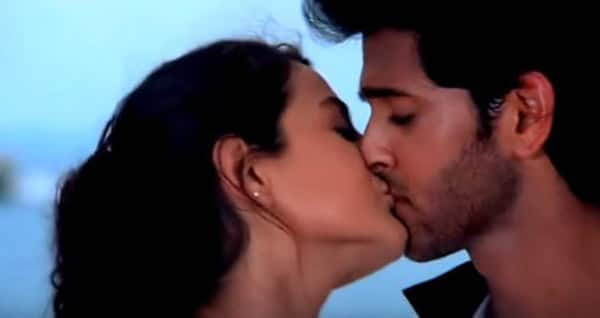 In his mega debut film, Hrithik Roshan has a sweet peck on the lips moment with Ameesha Patel when they were stranded on a lonely beach. His first most passionate kiss was with Aishwarya Rai Bachchan in Dhoom 2.
Aamir Khan in Holi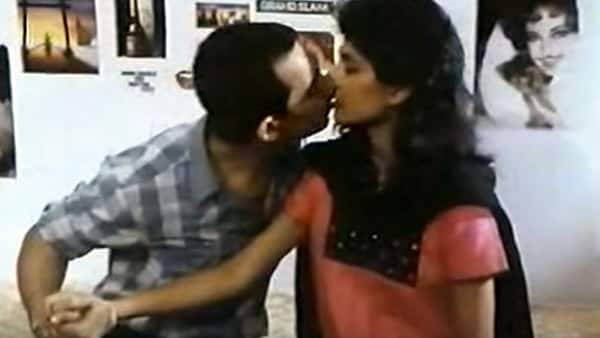 Aamir Khan is the only Khan among Shah Rukh and Salman to have no problems kissing onscreen, last seen kissing Katrina Kaif in Dhoom 3. His first kiss was in his debut film, which, interestingly, is not Qayamat Se Qayamat Tak, as many believe. His first film as an adult was Ketan Mehta's campus movie, Holi, which also happens to harbour AK's first kiss. Guess who was the lucky lady? Telly actress Kitu Gidwani!
Ranbir Kapoor in Bachna Ae Haseeno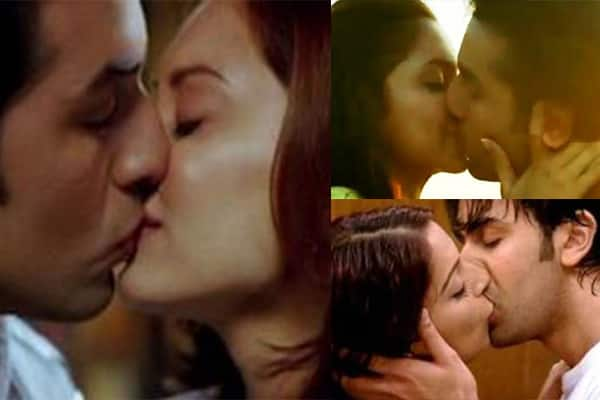 Ranbir Kapoor may not have kissed Sonam Kapoor in his debut film, Saawariya. However he locked lips with not one but three hot ladies in his second film. He first kissed Minissha Lamba, before sharing a passionate kiss in the elevator scene with Bipasha Basu. Then there is the final kiss with his ex, Deepika Padukone. Some guys have all the luck!
Ranveer Singh in Band Baaja Baaraat
Band Baaja Baaraat heralded the arrival of a new bindaas hero in Bollywood, who has no qualms in even endorsing a condom. That hero is Ranveer Singh. That kissing scene with Anushka Sharma in the film was talksedabout a lot, because of its length and for the fact that how tastefully it was shot.
Amitabh Bachchan in Black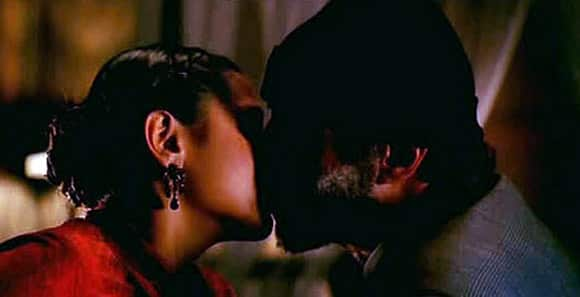 When he was that angry, young man, he had never kissed his heroines on screen, however Amitabh Bachchan dropped his stance for Sanjay Leela Bhansali when he kissed for the first time in Black, that too in his '60s. However, that scene with Rani Mukerji was not romantic at all; instead it sent us into recesses of depression, making us feel bad for both the characters. Big B did another small kissing scene with the late Jiah Khan in Ram Gopal Varma's Nishabd, which became a lot more controversial.
Shahid Kapoor in Jab We Met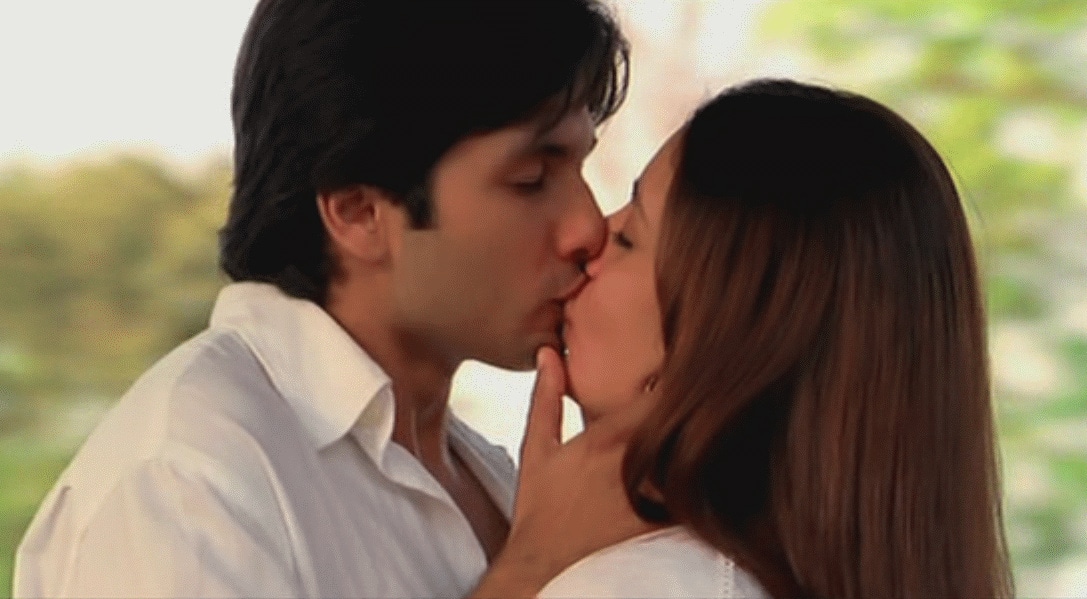 Before they broke up, Shahid Kapoor and Kareena Kapoor acted in quite a few films. However, it was in their first film after their breakup that they finally kissed onscreen. This also happened to be Shahid's first onscreen kiss, a trend which he later followed up on in films like Badmaash Company, Kaminey, Haider and others.
Sidharth Malhotra in Student of the Year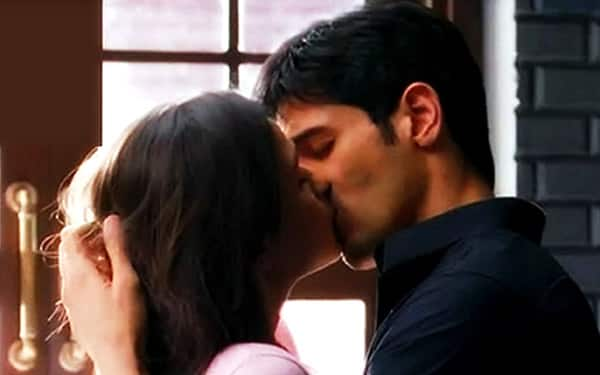 Student of the Year had the debut of Sidharth Malhotra, Alia Bhatt and Varun Dhawan. Though Alia Bhatt was paired with both the actors at different junctures of the movie, it was only with Sidharth Malhotra that the kiss happened, which turned out to also be the first kissing scene Karan Johar had directed.
Varun Dhawan in Main Tera Hero
Though it was Sidharth who got the chance to lock lips in their debut film, Varun Dhawan took the missed opportunity to do pucker up his lips in his second film, where he kissed his heroine Ileana, quite a few times in the climax.
Arjun Kapoor in Ishaqzaade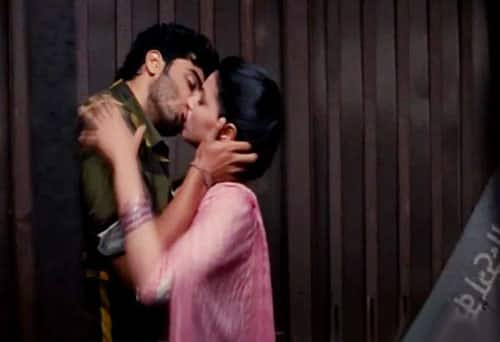 Arjun Kapoor made a strong debut in this rustic version of Romeo and Juliet. One of the film's most impactful scenes was the consummation scene between Arjun and Parineeti Chopra's characters, which leads to him revealing his true colours.
Nawazuddin Siddiqui in Miss Lovely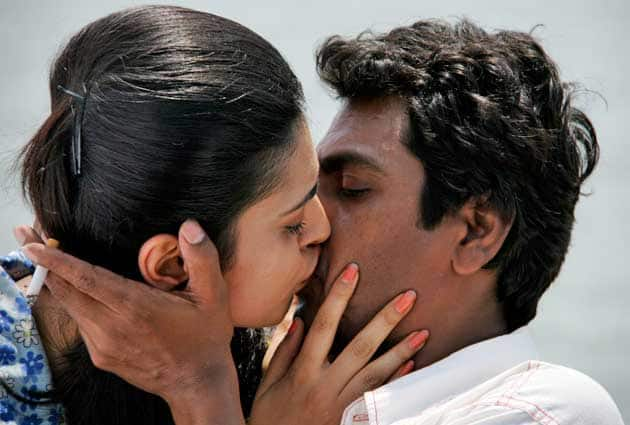 There have been reports where Nawazuddin Siddiqui has claimed he has never kissed a heroine onscreen. Perhaps he has forgotten this award-winning noir film, Miss Lovely, where he shared a passionate French kiss with Niharika Singh.