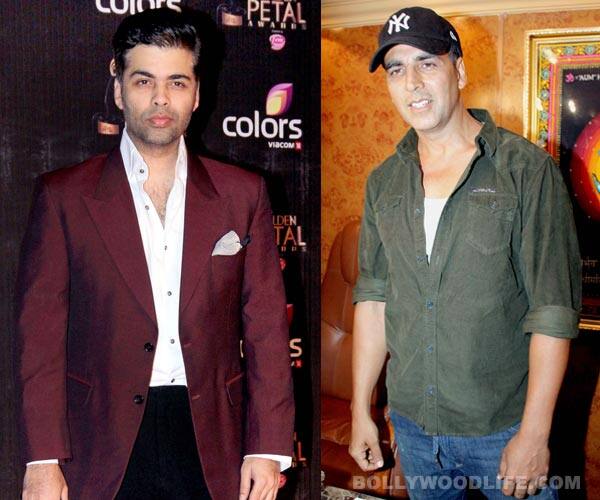 Akshay Kumar, who will appear on Koffee With Karan for the first time ever on this Sunday, took on the ace director with his own rapid fire questions after giving KJo some scintillating answers
Akshay Kumar made his Khiladi presence felt on the notorious black couch of Koffee With Karan for the first time ever. The daredevil action hero decided to ask the gracious coffee show host KJO some seriously wicked questions. Take a look at this naughty banter and tell us whose rapid fire questions were really biting.
Akshay's rapid fire to Karan
AK: Who would you have as your enemy? Me, SRK or the entire Chopra family?
KJo: How can anyone choose an enemy?
AK: Now you will understand what we go through…
KJo: I will rather have you as my enemy
AK:Which celeb wife would you want to be married to? Tina, Gauri, Sussanne, Shilpa?
KJo: Tina. Undoubtedly she is the first love of my life
AK: If you were trapped on a deserted island, whose camp would you choose to survive in, SRK or Salman Khan?
KJo: Shah Rukh. I have been more protected by it in the past.
AK: If you had one film to make before you die who would you have your last hero and heroine?
KJo: I would go with an actor I have not worked with… I would say Aamir Khan and Deepika Padukone
KJo's rapid fire to Akshay
KJo: Women find Akshay Kumar sexy because?
AK: Because he can unbutton himself in public.
KJo: What do you have that the following people don't?
The Three Khans : Height
Ranbir Kapoor: Experience
Hrithik: I can't say abs because he has much better abs than me.
KJo: The stupidest rumour you ever heard about yourself…
AK:I am gay. With Tushaar Kapoor and Saif Ali Khan.
KJo: Which celebs according to you need a stylist?
AK: Sajid Khan
KJo: A therapist?
AK: Sajid Khan
KJo: A gym membership?
AK: Sajid Khan
KJo: Hindi tutor?
AK: Nargis Fakhri
KJo: Parineeti or Alia who has the brighter future?
AK: Parineeti