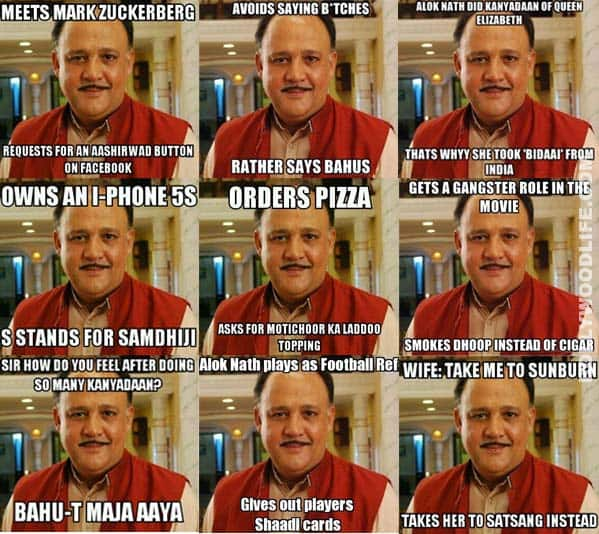 The veteran actor was trending on Twitter some days back. Here is what he has to say on this
After Rajnikanth, ACP Pradyuman, Sir Ravendra Jadeja and Arnab Goswami, the latest personality to get fame over jokes made on him is Alok 'babuji' Nath. The veteran actor was trolled on the internet space with some hilarious and some not so funny memes and jokes on him. And it seems that the actor is enjoying all the attention. "When I got to know that I am trending, I was shocked initially and was wondering why am I trending for no reasons as I am not on Twitter or any other social networking sites. Only when my son told me that nothing serious has happened and jokes based on me are trending, I took a sigh of relief. I am happy that people are spending time on creating jokes on me. I am taking the entire thing very positively and in fact enjoying the attention. I have suddenly become very very very important person.", Nath said to a leading daily.
Wethinks all the jokes on him are justified. After all, most of the roles that Alok Nath has played in movies and TV soaps are of an aadarshwadi and sanskaari father who teaches his sons and daughters the same. Yes, he has played negative roles in movies like Bol Radha Bol, Vinashak and Shadyantra, but all that have gone amiss as he has been concentrating more on babuji and samdhiji roles over the past few years. Looks like, it's time for Alok Nath to play a baddie again to break from his stereotypical roles and not to be the butt of a joke again.
Anyway, we have selected some funny Alok Nath memes and combined them in an image. Take a look at them to go LOL. And if you want to go ROFL, here are some hillarious tweets:
@coolfunnytshirt Many wud.. Party all night Party all night We do party all night! Alok Nath wud.. Aarti all night Aarti all night We do Aarti all night!
@blackmagicgal1 When Alok Nath decides to get modern he wears dhotis with zips
@dhaval241086 Alok Nath was the first person to call Parle as ParleG !
@chimanchappu- Punam Pandey should thank her stars that Alok Nath did`t give her Sanskars, else her life would`ve been hopeless and she would`ve been jobless
@crazysam3d – Alok Nath went to sunburn and did SURYA-NAMASKAR
@iRahulSingh – Anoop jalota is Alok nath`s yo yo honey singh.
@GhantaGyaan -When Alok Nath was born doctor said, Badhaai ho, babuji huay hain.
@bwoyblunder – Alok Nath walks slowly. Because Babuji dheere chalna…..
@rahulroushan – According to Hindu Marriage Act, a girl can not marry if Alok Nath disapproves.