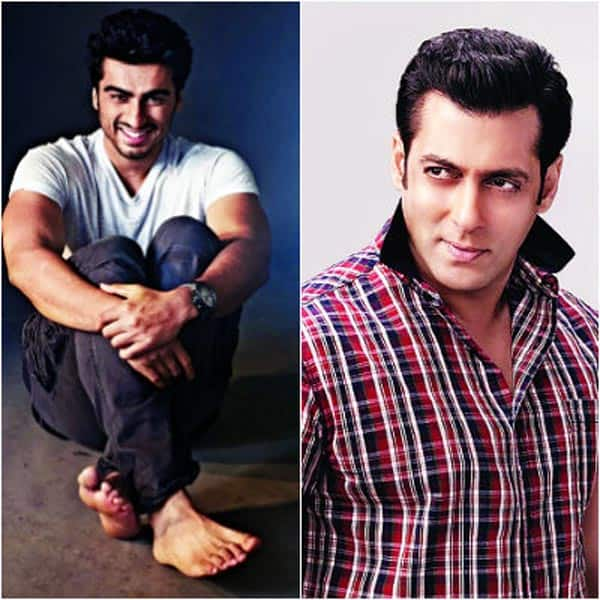 The 2 States actor recently got late coz of his mentor, we hear
Success has a side effect — enemies — as Arjun Kapoor is discovering. Vested interests have been talking about the change in the newbie's attitude post his last film, 2 States, which touched the Rs100-crore mark. It is being said that he has been acting uppity, even with his mentor Salman Khan. The incident is said to have happened when Arjun was shooting for a commercial and Salman for Sajid Nadaidwala's Kick in Mehboob Studios in Bandra.
Word from the crew was that Arjun didn't go across to meet Khan for the first two days till the senior actor sent word asking him over for lunch.
A source close to Arjun rubbishes the rumour. "The relationship that Arjun shares with Salman bhai is an extremely private and personal one. He doesn't want to trivialise it by clarifying what happened. The fact is Arjun was shooting at Mehboob for a photoshoot for one of his commercials and he was there for just six hours – from 2 pm to 8 pm. When he reached and heard that Salman and Sajid Nadiadwala were next door shooting for Kick he immediately went to meet him. He not just met Salman but Sajid also after more than a month after 2 States has released. After he chatted with both, Salman asked him to come back after pack up and have dinner with him. During the course of the photoshoot when Arjun told Salman, that his stylist had gone away and he didn't have clothes to shoot with, Salman offered him his own clothes for the shoot."
So after Arjun packed up around 8.30 pm he again went on the Kick sets and had dinner with Salman who was sitting with Puneet Issar and Suraj Pancholi. Adds the source, "In fact, Arjun got late reaching for a store launch the same night because he was with Salman but he couldn't tell the launch people why he got delayed. Arjun was to reach by 9.30 but instead he reached at 10 pm. Neither did he want to tell Salman that he was getting late as he has too much respect for him to do that. Arjun has his own equation with Salman but will never speak about it. They are as connected to each other as they were from the beginning and Salman knows each and everything that is happening in Arjun's life. In fact, Arjun can never fly high with success as three people in his life will always keep him grounded – Aditya Chopra, Salman Khan and his own father Boney Kapoor. There are people who don't like the fact that Arjun and Salman are close and maybe spreading such rumours of a rift between them."