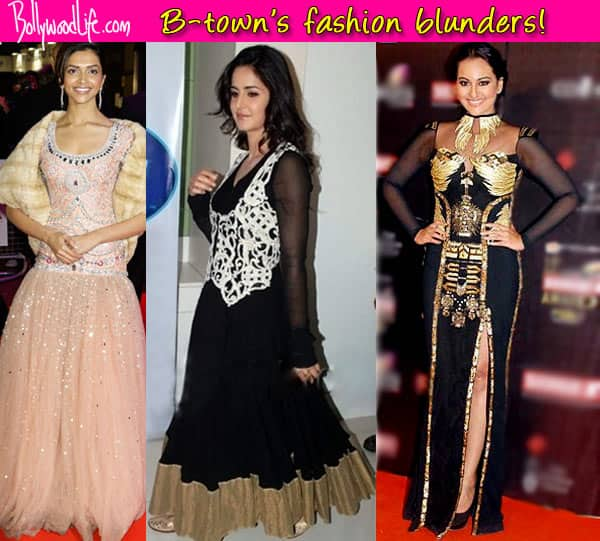 skip advertisement
Here's looking at some of the lowest fashion moments of these glamorous tinsel town actresses
These fashionistas of Bollywood don't always dress drop-dead gorgeous. They are human and being human is to err and we can tell you that these babes err like crazy at times. We give you a breakdown of five Bollywood fashion icons who had a miserable bad hair day in public that they might want to erase from our memories!
Sonam Kapoor: The Khoobsurat actor had us applauding all of her Cannes appearances this year because quite honestly she nailed it every time! She earned every bit of the "fashionista of the nation" label the media world has associated with her. But Sonam has also had her dark days especially the day she decided to appear at the Hello Fame awards wearing an unflattering yellow dress. What we really think the cherry on that horrendous cake was the hedgehog cum bush like neck of the dress. All we hoped for was that creature around Sonam's neck to be dead. Yikes!
Alia Bhatt: The cutesy Bhatt gal who was generously doling out fashion advices to Parineeti Chopra on Koffee With Karan really needs to look back at her blunders, fashion-wise! Serious pot meet kettle (read kettle as Parineeti) situation happened at a 2 States promotional event when Alia decided to sleep through her meeting with the stylist and chose to don the ugly Namrata Joshipura creation. Though we made our peace with the minimal make-up and the side swept hair, we just cannot forgive the taupe dress. The color of the outfit didn't suit Alia, the material of the dress looked inexpensive and there was no saving grace in the look.
Aishwarya Rai Bachchan: Ash hardly misses it when it comes to making a stylish public appearance. But tables sort of turned ever since Aishwarya had her first baby. We just couldn't figure why her impeccable fashion sense went for a toss!She made a series of misses right after the birth of Aaradhya especially at Cannes. Its hard to pick one but we think we'll take the blue satin gown as the worst of them all! Apart from it being too loud, the hair-do and the make up looks tacky. We are glad that the diva bounced back this year by picking out the stunning golden Roberto Cavalli gown.
Deepika Padukone: Sonam Kapoor expressed her opinion that Deepika doesn't have a style of her own and she tries to be someone else. Well we couldn't agree more with Sonam on the day Deepika decided to wear this unattractive outfit to the premiere of Chandni Chowk to China. This pink rhinestone-studded disaster made us go "What the hell were you thinking Deepika?!" What was worse than the hideous outfit was the bindi Deepika decided to wear with the dress! The faux fur shrug she carried with the gown was more out of place than the bindi on her forehead. After Dippy's fashion faux-pas we are nothing but thankful for Anaita Shroff Adjania for entering her life!
Katrina Kaif: Katrina Kaif has no notions about herself being a fashion icon. But she rarely makes a miss in terms of looking appealing at every public outing of hers. Her sense of style may not be outstanding but it isn't atrocious on the eye either. But we wanted to gouge our eyes out with forks after seeing Katrina Kaif in this black anarkali at an Indian Idol episode. We just don't understand why the white crochet on the torso is needed, the dress looks horrible enough already! Saving grace in this outfit: Katrina's pretty face. Period.
Sonakshi Sinha: She isn't exactly a fashion diva to begin with but that just doesn't redeem the Falguni and Shane Peacock creation Sonakshi chose for a post award show party last year. Poor Sona should have either worked out a bit before throwing on that gown or she should have realised that it is meant for a petite frame. Anyway, once seen, you can't unsee this disaster.