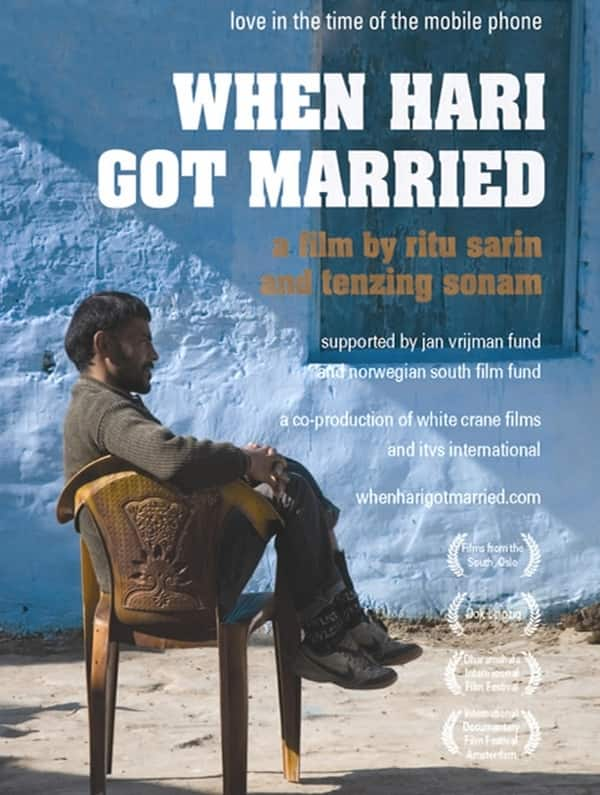 An endearing documentary about a taxi driver's wedding in Dharamsala – home to the Dalai Lama – in the foothills of one of the world's most famous mountain ranges
Take any hit Bollywood movie or Hindi daily soap, and you know it revolves around a wedding or two. Reality shows too have used this formula time and again, whether for a Rakhi Ka Swayamvar or a show like Band Baaja Bride.
It's not surprising then that Ritu Sarin and Tenzing Sonam's documentary on the wedding of Hari Desh, their local taxi driver in Dharamsala, gathered a lot of curiosity. But what is it that makes When Hari Got Married so appealing to audiences who are not accustomed to watching this format of filmmaking?
What the film is about
It's the treatment. When Hari Got Married begins with Hari talking to Suman, his bride-to-be on his mobile phone. They have been engaged for two years, having said 'yes' without even seeing each other. And yet, there is excitement in their hearts.
Much of the film's shots have been taken in Hari's taxi, just as he is driving it. (He was even caught by a daroga who didn't quite look like a traffic cop.) Hari is very comfortable on camera, almost as if he is the hero of a film. He also comes across as intelligent and very aware, an aspect of his personality that is most likely enhanced because of his access to television, mobile phones and foreign tourists in the hilly town of Dharamsala.
In fact, the entire Desh family is comfortable with a video camera being thrust into their homes, their wedding prep, their private conversations, their family history and finally, the wedding. This was possible because Sarin and Sonam have known the family for 18 years – Hari was just 16 when Sarin first met him. This helped the Deshes really let go of their inhibitions, adding an easy charm to the film.
The treatment
The story follows a pre- and post-wedding format for the beginning and middle, and ends a year later with a little bundle of joy in the couple's arms. The end also shows how Hari and Suman have grown to love each other, thereby denoting the success of yet another traditionally arranged Indian marriage.
The directors have cleverly merged various aspects into the proceedings, like life in Dharamsala (the village, the Tibetans, the tourists), the impact of technology and communication on the mindset of the villagers towards the girl child and women, the changing village economy, and more.
So the movie is not just about a wedding, but also about Hari's life. For entertainment, there's his sense of humour, his tuta-futa English, his frankness. For sob value, there's the girl's bidaai with rona-dhona that's bound to give you moist eyes in spite of yourself, and also Hari's story (his mom passed away when he was a toddler, his dad's sacrifices, his own progress).
Verdict
When Hari Got Married is the great Indian wedding story, all right. But it's not like a full-on masala Bollywood film. Neither is it a boring documentary or sluggish travel channel feature. It's a real-life story that is engaging enough for you to sit through the entire one-and-a-half hours, and applaud. It's nicely packaged and not overly refined – just like the bride's (thankfully) minimal facial makeup!
Rating:
out of 5
Reviewed by Shweta Parande
* Poor
** Average
*** Good
**** Very good
***** Excellent