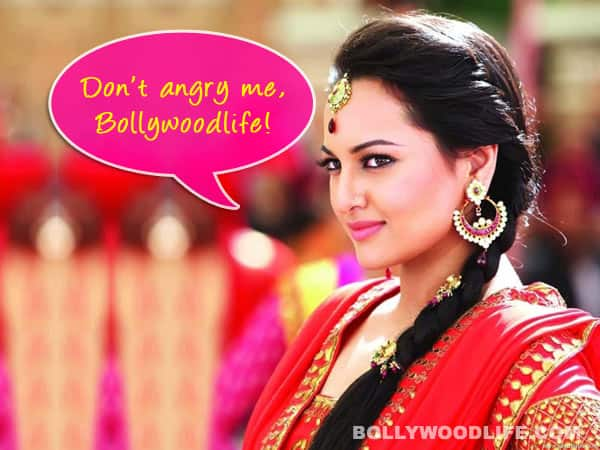 Sonakshi Sinha hates me. She is upset at the more than honest (read: wicked) stories we do on the R..Rajkumar actor's lack of sartorial sense and the way we speak of her 'mature' image on our very pink site. So when I met darling Sona yesterday, she refused to look me in the eye. And that made my story…
When Sonakshi Sinha and Shahid Kapoor made a starry entry into the office of a leading newspaper, I was waiting patiently to do a special interview with the duo. After taking a walk around the office (Sasha even took off for a loo break, with a security guard standing watch over his privacy), the two were guided towards a conference room.
Sonakshi was limping. Her heavily wrapped ankle clearly said that babe had sprained her najuk joint. And post a few starry glances at the gathered star-struck staff, it was presswallas only.
A couple of in-house interviews later, I approached the unconventional jodi of R…Rajkumar, politely requesting both Sasha and Sona to stand up for the cameras. Shahid agreed instantly. Sona shot a cold gaze at me. "I can't stand!," she explained, still staring into nothingness. She was obviously not in a good mood, perhaps thinking of all the wicked stories we have done on her -commenting cheekily on her style sense and her being a contender for the 3rd BollywoodLife Award for Best Auntyji of 2013, which we firmly believe she deserves – not for her talent, but for her image!
I still took a chance. I sat down right next to Sona, thinking that the interview could begin. But suddenly the starlet looked at our boom mike and declared, "I don't want to talk to BollywoodLife!"
"Why?" I tried hard to maintain my innocent façade. But those not-so-positive stories we had done on Sona were swirling around in my mind.
"You do nasty stories on me all the time and I don't want to talk to you," she got straight to the point.
"Okay, don't worry! Ignore those pesky journos. Maybe this interview will change our equation," I persisted.
"Someone from your team has done one more nasty story on me today,. Even you have done them – see!" complained the babe, checking the latest stories about her sparkling on www.bollywoodlife.com on her smartphone.
Before I could use my charm with guaranteed results, the editor stepped in with more tact than we show on our website. "Come, Sonakshi, I have a special seat arranged for you in this corner," she invited. The lovely lady stomped off.
But all was not lost. Shahid, who watched this drama unfold, was silent. I tried a sweet compliment to soothe the angry Sona and Sasha giggled. All was not lost, after all. The lad's charm and fluent conversation made our day. A quick chat later and I left. Sonakshi still in her special seat. I winked at her, "Lovely meeting you, Sonakshi," and made my exit.
"Me too," she replied, her gaze still fixed into the distance. We hope that some day soon she will forgive us for our sassiness and see the funny side, flavoured as it is with genuine admiration for her acting talent.