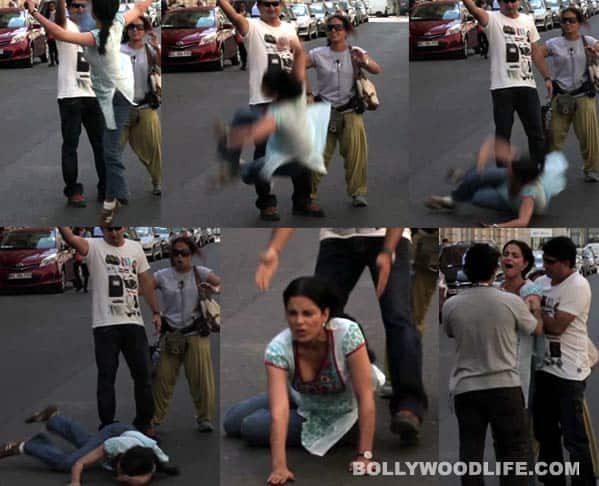 Watch the Queen star falling on the street of Paris while trying to show her super girl, super-action moves to director Vikas Behl
Gravity does take its toll you even if you happen to be Kangana Ranaut! Kangy realised that rule when she was trying to show off her high flying kicks on the streets of Paris while shooting for a sequence for Queen.
We all know that Kangy played a super sexy chameleon in Hrithik Roshan's super hero flick Krrish 3, but her Queen director was not convinced about the intensity of Ranaut's high flying kicks. Naturally, in a daredevil attempt to redeem her ego, Kangna decided to show what she's made of.
After stretching her long leg a couple of times, Kangy got overambitious. She crossed her limit-literally at that- thinking that she has sprouted wings that can make her stay afloat in the air even if she has her both legs up. The babe learnt her lesson in the hardest possible way and the very next moment she was on the ground, absolutely flat on her face. But the strong willed beauty gave her shots despite that great fall.
Watch this video that proves that even superhero err…super girls have their shares of (down) falls!

[flv image="http://st1.bollywoodlife.com/wp-content/uploads/2014/03/kangna-quen-making.jpg"]http://st1.bollywoodlife.com/wp-content/uploads/2014/03/making-of-queen.flv[/flv]