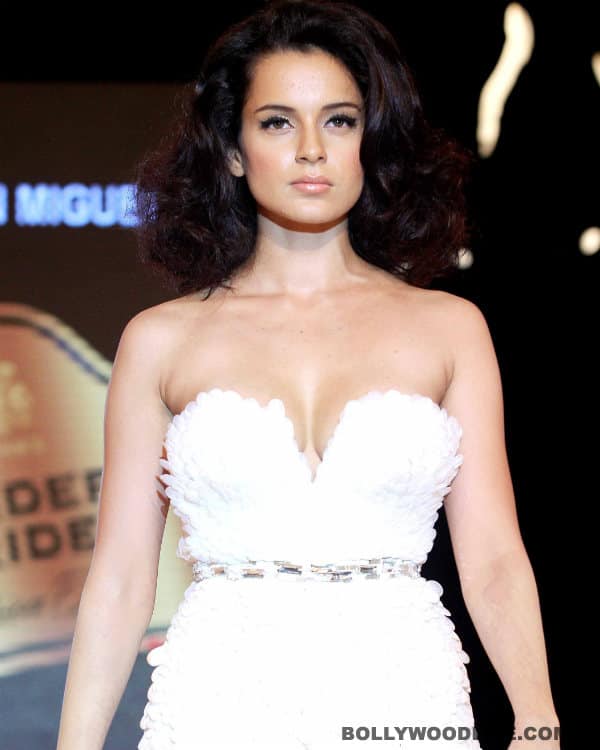 The Fashion babe, who is shooting her forthcoming release Revolver Rani in Chambal Valley, had a narrow escape as dacoits stopped her car midway and insisted on clicking pictures with her
Kangna Ranaut is a courageous soul. The 26-year-old beauty recently showed that she is made of steel and doesn't kowtow…even if the demands are made by deadly dacoits all equipped with knives and guns. It so happened that Kangy was shooting in the Chambal Valley for her next film, Revolver Rani.
She was returning to Gwalior with the movie's director, Sai Kabir and the crew in a convoy of about four-five cars and a police van. Suddenly they were stopped by about 12 armed dacoits, who insisted on clicking pictures with Kangna, refusing to let her car pass. However, in the end, the film's director Kabir, who had lived in the dangerous area for over 15 years, succeeded in reasoning it out with them.
We also hear that in spite of a heated argument, the babe didn't meet them or take pictures. Luckily the crew had a police van for security who were equipped with machine guns.
But we wonder why Kangy turned down such a humble request. Had she clicked a picture or two, there wouldn't have been any scope for altercation in the first place. Our khufiya khabroo who witnessed this encounter told us that Kangy was sitting in her car sans make-up. She could not step out of her comfy vehicle because her no-make-up-avatar would have scared the dacoits to death and they would have started shooting randomly out of self-defense.
Goodness gracious Kangy used her grey matter and stood hidden (face covered) in her car!