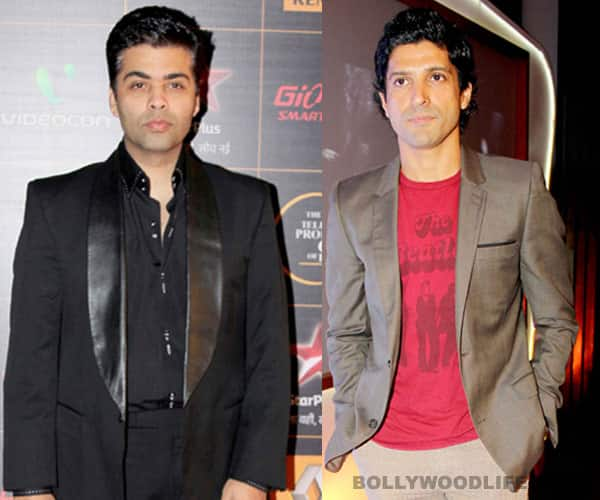 Yogen Shah
The Bhaag Milkha Bhaag actor has proven his mettle as an film producer, director and even an actor. However, some of his close pals from the past had not expected Akhtar to have a successful stint in Bollywood
Farhan Akhtar is ruling the awards circuits this year thanks to his biopic on the Flying Sikh. His movie Bhaag Milkha Bhaag even went on to bag the National award in the popular category. However, Karan Johar always felt sorry for the filmmaker turned actor, wonder why? In a recent interview KJo candidly revealed how he looked down on the Dil Chahta Hai director. Johar who openly termed his own film Kuch Kuch Hota Hai 'silly', unabashedly said he had no hopes about Farhan. Did he think Farahan was a loser? 
Well, that's what the Koffee With Karan 4 host suggested in a recent interview. However, the Shuddhi maker even added that he was wrong. He said, "I knew Farhan as a kid. And everyone thought what will ever happen to Farhan Akhtar? We were like poor Honey aunty. Like she has produced this child. When I realised that he was making this film called Dil Chahta Hai, which in my head was releasing in the same year as Kabhie Khushie Kabhie Gham . And Aamir Khan has he lost the plot he's agreed to do that. And someone told me that Aamir is doing a film called Lagaan about a man in a dhoti, with cricket match and it's four and half hours long. I didn't even know what it meant, someone said it's about tax. I was upset that they are coming in the same year. I said this is a clean sweep for me, I was like I'm going to come in the end and people are going to give me a ovation. I realised very young that you should never have thoughts like this, otherwise it will kill you and your career and never get you back on track. I realised you get knocked on your head if you don't acknowledge the brilliance of your contemporaries."
Guess, Mr Johar has realised fast and in time that talent cannot be perceived or judged hai na? Now we cannot wait to find out what the Akhter Jr's opinion about the Dharma's head honcho is.