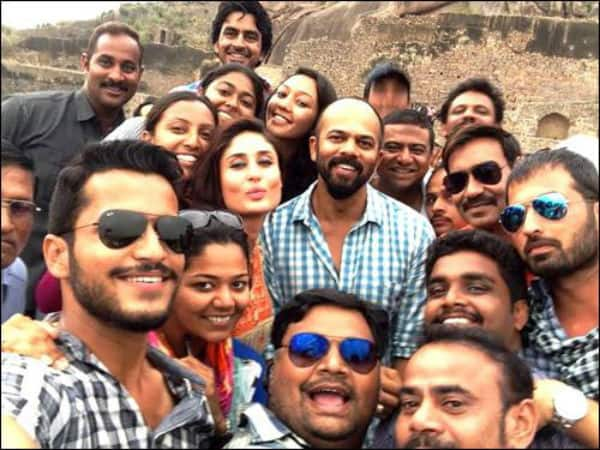 She may not understand Twitter or other social media but this actor certainly knows her way around taking selfies making pouty faces!
Kareena Kapoor Khan recently claimed that she doesn't understand why she must join the bandwagon of Twitter or Instagram as she likes to keep her life private.But recently while shooting for Ajay Devgn starrer Singham Returns Bebo clicked a selfie with a co-actor in a spur of the moment!
Required to play a garrulous character, Bebo was supposed to yap away while the cameras were rolling with a restaurant owner for a particular scene in Rohit Shetty's Singham Returns. The actor was so under the skin of her bubby character that she initiated clicking of a selfie with the same restaurant owner. Director Shetty liked Bebo's spontaneity so much that he decided to retain the shot for the final cut!
A source close to the film's shoot revealed, "We were shooting a jovial conversation between the two. Her clicking a selfie fits in well with the mood of the scene."
Now then Kareena, looks like its time for you to experiment with social media now that you have mastered the art of pouting at the camera for a selfie!