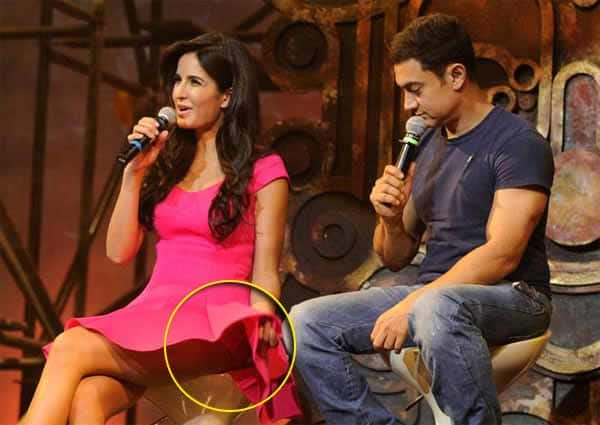 skip advertisement
Kat isn't one of those B-townies who manages to grab eyeballs at every event with a unique dressing style. But at a recent event, the girl managed to do so, intentionally or not, showing off a little more than she planned…
At the launch of the Dhoom machale song from Dhoom:3, both Aamir Khan and Katrina Kaif were present. What's more, the duo had a fun time. While Aamir was in his usual casual avatar – a tee and a pair of denims – Kat wore a short hot pink frock.
We noticed that AK had finally left his hat at home – oh, wait, he arrived straight from the cricket match where he was supporting good buddy Sachin Tendulkar wearing his lucky T-shirt and no hat, remember? But what really stood out was Katrina's short little skirt. Most Bollywood celebs like being head-turners in any situation; but the Dhoom:3 lady has never been one to impress us. Kat always plays safe with her clothes. We wonder why she chose this dangerously short dress!
A lot of people think Kat is like a Barbie doll. But that doesn't justify the Barbie pink dress, wethinks. The pretty pink frock would've looked cute on someone much younger. But considering the event was held on Children's Day, maybe KK wanted to wear something young, hai na? However, the pleated flare didn't exactly complement her long legs and when she sat down, there was a distinct oops moment – Katrina showed off much more than she probably intended to. But at least the undies matched! And as she lived through that Marilyn Monroe moment, we saw Aamir staring down at her legs. Woohoo!
There have been actors who forgot their undies at home and showed off more than we wanted to see. That way, they got seen and written about and maybe found work, too. We certainly don't think Kat had any such intentions – it was an unintentional wardrobe malfunction, we are sure….you never know. Wink, wink!
What do you think, BollywoodLifers? Was Katrina's showing off her pink undies a deliberate fashion fumble?