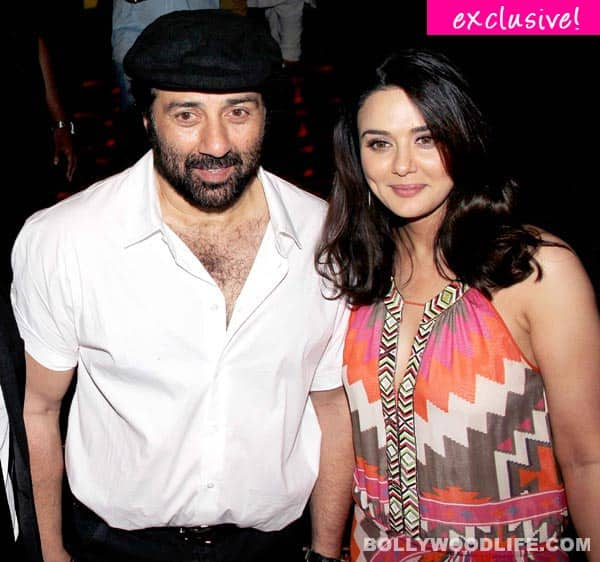 At the Ishkq in Paris premiere held last night, the dimpled babe was so busy that she failed to welcome Sunny paaji and escort him in. But the calm star that Sunny is, he didn't make a fuss…
Actor-producer Preity Zinta held a starry premiere of her first home production Ishkq in Paris last night. We heard the petite babe personally invited her B-town friends and well wishers, including Anil Kapoor, Sunny Deol, Abhishek Kapoor, Kangna Ranaut, Javed Akhtar and Shabana Azmi. Everyone who was there was quite pleased to grace the event and wish their dear friend the very best. They did their bit to help her make it a memorable affair, which should make her happy, even if she doesn't get the chance to party to celebrate the film's success.
But little did Preity know that in all her glory and happiness, she unintentionally hurt one of her esteemed guests. Yes, no-nonsense actor Sunny Deol, who was quite baffled to see nobody at the red carpet to welcome and escort him in, stood there at the entrance waiting for his hostess to do her thing. A close friend present at the gala night told us, "Sunny arrived in his white Range Rover well before the premiere began. After stepping out of the car, he was looking for Preity and checked for her whereabouts but, much to his dismay, our paaji had to wait for a considerable time before he could get in. He looked quite upset, as nobody was present to attend to him."
Preity, our khabroo says, "was busy greeting her guests who were already seated inside, so she couldn't step out and attend to other guests – including Sunny – who were waiting for her at the red carpet area." Though the Yamla Pagla Deewana 2 actor looked visibly shocked not to see his lady friend around, he preferred to keep quiet and patiently waited for her or someone from the team to welcome him. "Later, as the news about Sunny's arrival reached PZ, she asked somebody from her film's PR team to escort the actor in," said our friend.
We know that neither Sunny nor Preity is to be blamed for this mishap. But we are sure that PZ feels bad about it. Of course, her pretty apologies would have made the dhai kilo ka haath actor smile widely!