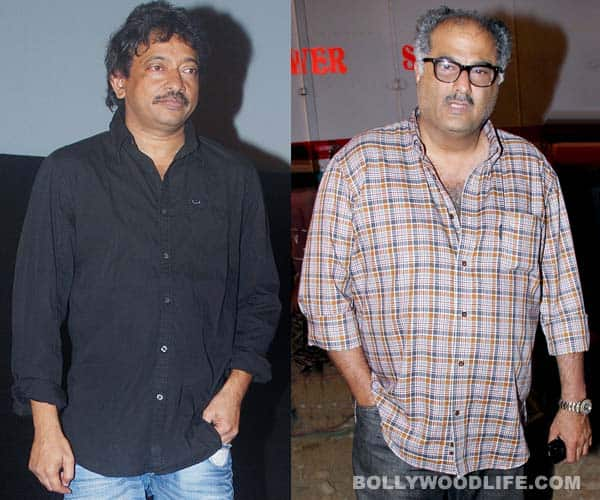 The maverick director confessed that he wanted to murder the producer husband of superstar Sridevi
Sridevi is all set to make a comeback after 15 long years with her upcoming film English Vinglish. Sri is definitely creating a happy buzz with the movie. But the screen goddess's diehard fan filmmaker Ram Gopal Varma has chosen the perfect occasion to open his big blabbering mouth to talk about his love for the actor. RGV has confessed in an interview to a daily that he's a big fan of the Mr India actor, but hates her husband Boney Kapoor. "I saw her (Sridevi) in Boney Kapoor's house, serving tea like an ordinary housewife. I hated Boney Kapoor for bringing that angel from heaven down to being just an ordinary housewife. I stopped going to their house because I couldn't bear to see Sridevi in a realistic setting," said Ramu in an interview.
RGV has always been an ardent devotee of Sridevi and her exceptional acting abilities.Why then does he hate his favourite diva's otherwise amiable husband so much? "Boney Kapoor stepped into her life and married her. I was one of the few million men in the country who wanted to kill Boney out of sheer jealousy," he explains.
We feel sorry for Ramu. And now it is too late for him to entertain the thought of being with the angelic beauty. "So what if Boney Kapoor has the real Sridevi in his house? I have her captured in the form of a cinematic goddess in the temple of my mind camera and also as a divine angel in the heart of my celluloid dreams. I thank God for creating Sridevi and I thank Louis Lumiere for creating the movie camera to capture and contain her beauty forever. I thank Balki and Gauri for bringing her back in such a befitting and wonderful film," concludes the ever-optimistic director on a mighty philosophical note!