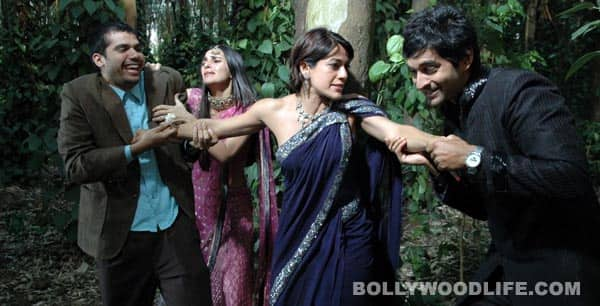 The Bheja Fry writer makes his directorial debut with the Rajat Kapoor-Tisca Chopra starrer 10ml Love. He has been around for a long time, and has been working in close collaboration with Rajat and gang ever since he started out.
Sharat Katariya learned filmmaking from Jamia Millia Islamia in Delhi, and came to Mumbai to make films. He started his career by assisting Rajat Kapoor in Raghu Romeo, and now after about a decade, his maiden directorial venture, 10ml Love, hits the marquee. In a long candid chat, Sharat speaks about his experiences, the years of frustration when his film was lying in the cans, and how relieved he is now that his labour of love is all set to see the light of the day.
How did you meet Rajat Kapoor?
When I first came to Mumbai, I didn't have much to do, so I hung around with my brother Kunal Sharma who was the sound designer of Anurag Kashyap's Paanch. I was very fascinated when Kunal showed me the brochure of Paanch, and I wanted to be a part of such films. I used to be at the studio and silently observe Kunal, and that's how I learnt post-production. One of those days, Resul Pookutty was at the studio, and I told him about wanting to assist a director. He asked me to meet Rajat who was starting his film (Raghu Romeo), and thus started the long association.
This sounds a little too convenient; didn't you have to struggle at all?
I don't want to talk about that. Who is interested in it anyway? I did have my share of struggles, but talking about is passé.
I agree. So what happened next?
I assisted Rajat on Mixed Doubles. The industry wasn't the same back then. Small-budget films hardly got a theatrical release. Mixed Doubles was made on a shoestring budget, but it was well received; it even made some money which eventually went into the making of Bheja Fry. Rajat was co-producing Bheja Fry, and he was looking for a dialogue writer. It was a crunch situation as the film was going on floors in 30 days, and they badly needed a writer. I chipped in, Bheja Fry got me noticed, and many writing offers started coming my way.
I just can't agree that films like Mixed Doubles and Bheja Fry were low-budget films. There is something very aesthetic about these films, and they don't look tacky like other such films…
The visual aesthetic is something we don't compromise on. Our films are low-budget because most of the cast doesn't get paid, and nobody complains about it. We make films together because we are passionate about storytelling. We are not here to make money. Our passion for cinema binds us together. I am alright if 10 people watch my film and nine out of them like it. I just hope that I don't get corrupted. (Laughs)
That explains why we always see a certain set of people being a part of all Rajat Kapoor films.
Yes (Laughs.) Manu Rishi (Chadda) has been a part of our films, and so has been Brajendra Kala. They are such talented people, how can one not work with them? It is like how Avtar Gill is a part of Mahesh Bhatt's movies. We have a certain comfort level, and that works for the good of the film.
How did 10ml Love happen?
Before Bheja Fry, I was pitching the script of 10ml Love for almost two years. Thanks to the success of BF, producer Sunil Doshi agreed to fund my film and that's it!
How was the experience of directing your first film?
It was an overwhelming feeling to see the cast and crew waiting to interact with me. Everybody had their own interpretations of the written material, and that really felt amazing. My entire team was so confident about the script that there were times they would not let me settle for anything less. There were times when I had to tell my team that I am the lousiest director or I am making the worst film ever made, just so that we could move on to the next scene. (Laughs)
Each time we met Rajat Kapoor, he always sounded very excited about 10ml Love…
The reason behind his excitement is that in 10ml Love, he will be seen in a role that nobody has seen him in till date.
How did you get Resul Pookutty on board for 10ml Love?
My career took off because of him, and I really wanted him to be a part of my debut film. He was about to leave for receiving the Academy Awards for Slumdog Millionaire, and I was a little nervous about approaching him. I invited him to watch the film, and he was nice enough to catch it before he took the flight for Oscars. He appreciated the film and said nice things. I thought, maybe he was just encouraging me, or being nice to me. But then he got on board and brought in his own sensibilities to the film.
When 10ml Love was lying in the cans, were you not tempted to make another film?
People around me used to tell that I should move on and make another film, but for me, I needed a closure. I wanted the film to reach out to the audience, and I would have been fine with whatever their verdict was. After making 10ml Love, all I wanted was for it to release. We screened the film at OSEANS, and Shiladitya Bora of PVR Directors Rare was a part of the 1,200-odd audience. He loved the movie, and requested me to give the film to him so that he could release it. Kudos to Shiladitya, because it is due to his vision that films like Shuttlecock Boys and Kshay even get released.
Were you not wary of releasing your film with Akshay Kumar's Khiladi 786?
That is when I wanted to release my film. Had I pushed the date further, Salman Khan's Dabangg 2 would have taken over the screens. I am just happy that 10ml Love is releasing.
Are you expecting a spill-over audience from those who don't get tickets to watch Khiladi 786?
These days, there is no such thing as spill-over audience. I am okay if a few film buffs like you show up to watch the film. At the end of the day, it is only films like Rowdy Rathore that make Rs 100 crores at the box office.
Are you not tempted to sneak in an item number to add to the box office prospects?
It takes a lot of guts to do that. I have to look into the eyes of my audience after they watch my film. Incorporating an item number in a script is an art that I am not capable of. I can't just abruptly cut to an item number. I write for other directors, but my film can't have any of that. I don't mind people using item numbers, and the audience enjoying it. It is just that it doesn't go with my sensibilities.