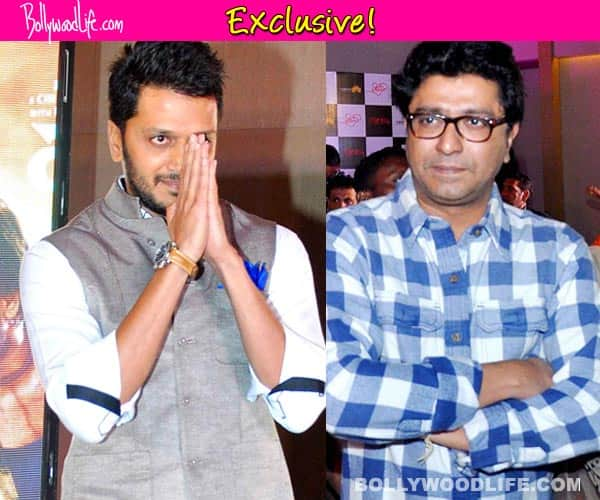 The incident happened at the music launch of Riteish's debut Marathi movie Lai Bhari at a suburban five-star hotel in Mumbai
It was a grand gala for the Marathi filmdom as Riteish Deshmukh launched the music album of his Marathi debut Lai Bhari at a plush suburban hotel in Mumbai last night. The Deshmukh lad might have produced Marathi films in the past, but for the first time ever the 35-year-old is acting in a movie made in his mother tongue. Directed by the National Award winning filmmaker Nishikant Kamat (Force, Mumbai Meri Jaan and Dombivali Fast famed director) Lai Bhari is touted to be the most expensive movie in Marathi ever. Naturally, the event was graced by big wigs from the industry as well as by the politicians.
A source who was present at the do informed us that Raj Thackeray walked in with wife Sharmila a little late. By then the proceedings had begun and Raj could see Riteish with wife Genelia and director Kamat getting busy talking to the media as they unveiled the music album. Raj had just reached the venue and before walking in he could see the event unfold on the screen put up in the hotel lobby.
The event managers, security guards and PR machinery immediately sprang into action to make way for Raj in the main hall where the event was held. But Raj was reluctant to go in. In fact, he decided to stand where he was until the proceedings got over. " The security guards and the production team decided to take Raj in the ballroom by clearing the way through the jam-packed hall. But Raj quickly made up his mind to watch the launch at the lobby instead of getting in. He did not want the media attention to get shifted on his presence and disturb the whole scene. He decided to wait patiently outside the venue in the lobby for a good 25 minutes and watched the entire show standing. He even requested the security personnel and managers not to make any effort to whisk him into the hall," informed the source.