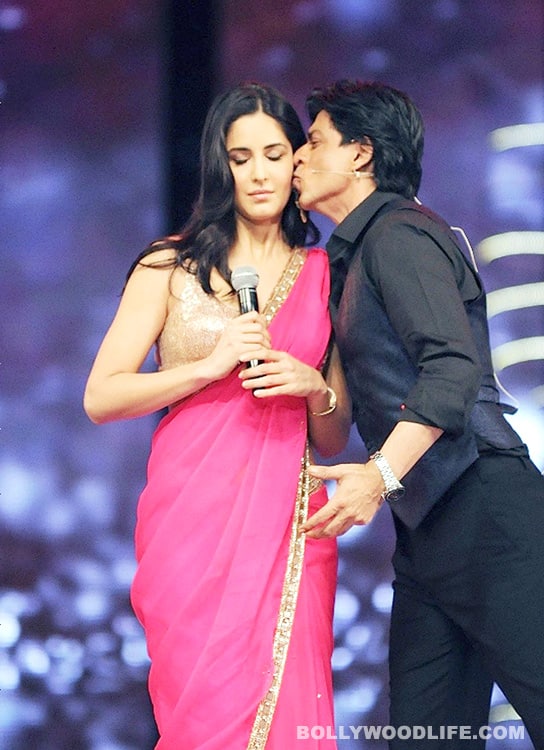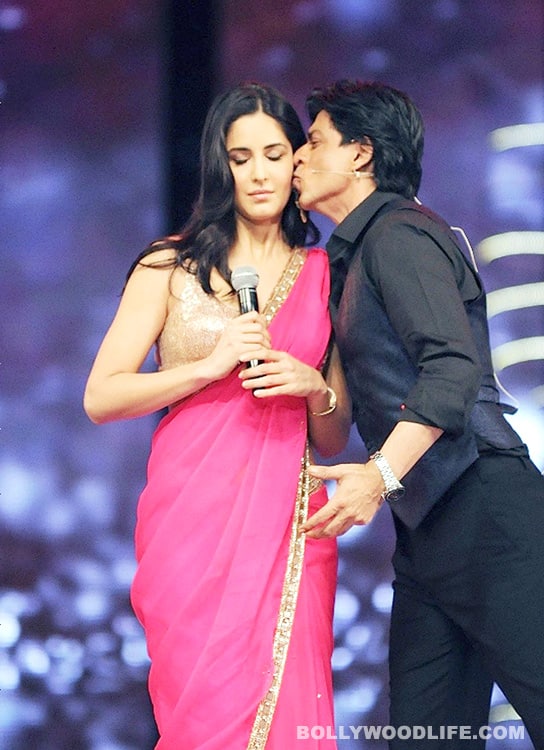 Shahrukh had loads of fun with Vidya Balan, Madhuri Dixit and errr… Katrina Kaif. Hope Salman Khan was not watching
Charm is one quality that works wonders in B-Town. And the one actor who knows how to use it well is the baadshah of Bollywood, Shahrukh Khan. After getting up, close and personal with Priyanka Chopra it looks like Chikni Chameli is next. At the 18th Colors Screen Awards, Shahrukh planted a sweet lil' peck on Katrina Kaif's cheek onstage. Cute na? But we are sure Salman and a few others wouldn't agree. The first to frown on this one will be SRK's dear wifey, Gauri Khan. The lady recently looked pretty miffed with hubby's closeness to co-star Priyanka. We wonder how she'd react to this.
If you have a charming superstar for a husband who is always surrounded by pretty ladies, it's time you start expecting such fleeting kisses, Mrs Khan. Next in line might be Piggy Chops who may not be all happy about sharing her favourite superstar with her pretty competitor. Guess you'll have to learn to live with it, Priyanka. Last in line will definitely be the Dabangg Khan. No doubt, Katrina is Salman Khan's ex flame now, but we still think a kiss from arch rival Shahrukh won't go down too well with him. But is Shahrukh worried? Don't think so! Here's what SRK tweeted after the function, "Too much fun with Vidya…Madhuri.. Katrina… Sajid. Hope the audience enjoys it too. Now looking forward to Zee after screen awards…loving it." But there's one person who definitely doesn't seem flattered by SRK's impromptu act and that's Ms Kaif! You certainly can't miss Kat's 'wtf…' expression, can you?