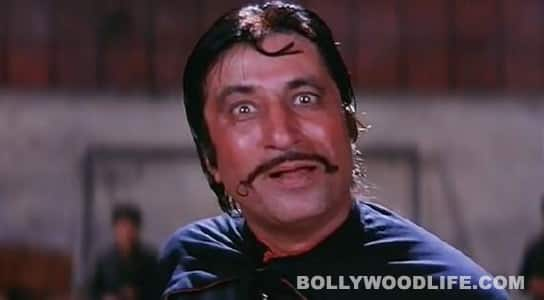 …biggest of all is Mr Gogo! Wasn't that a funny line? Though the genre of comedy films has been shamed by filmmakers these days, there was a time when Bollywood produced some really hilarious films which made us roll on the floor laughing out loud to the point of tears
Comedy is one of the most 'bankable' genres in Bollywood – the audience is happy and the makers laugh all the way to the bank. Sadly though, the quality of comedy films has gone from bad to worse in the past few years. Filmmakers try to play to the gallery but instead insult our intelligence with their trying-to-be slapstick humour, and insensitive jokes about homosexuality and flatulence thrown in for good measure. With Sajid Khan's latest comedy Housefull 2 releasing soon, we took a moment to look back at the films which were genuinely funny and make us laugh even after repeated viewings.
Gol Maal (1979)
Tumhari shaadi usse nahin hogi jisse tum pyaar karti ho, balki usse hogi jisse main pyaar karta hoon.
Your marriage will not happen with the one who you love; rather it will happen with who I love.
Jaane Bhi Do Yaaron (1983)
Woh gutter ke liye jiye, aur gutter ke liye mare. Woh kaha karte the ki kisi desh ki unnati uske gutter se jani jati hai. Unhone apni sari zindagi gutter mein guzaar di.
He lived for the sewer and died for the sewer. He used to say that a country's progress is known by its sewer. He spent his entire life in the sewers.
Andaz Apna Apna (1994)
Suno suno duniya ke logon, sabse bada hai Mr Gogo
Listen listen people of the world, biggest of all is Mr Gogo
Hera Pheri (2000)
Deva re deva, in dono ke lafde mein mujhe kyun fasa ke rakha hai. Utha le naa baba. Mereko nahin re, in dono ko utha le.
God oh God, in the fight of these two, me why you drag in? Pick up baba. Not me okay, pick up these two.
Namak  Halaal (1982)
I can talk English, I can walk English, I can laugh English. Because English is very funny language. Bhairon becomes barren and barren becomes Bhairon because their minds are very narrow.
No translation required!
ALSO READ: AGENT VINOD: Will he ever say, 'Jiyo aur Marne Do'?
DIL TO PAGAL HAI: Heart is mad
AGENT VINOD: 'Pyaar ki pungi'? Or 'Love's pipe'?
Rani Mukerji birthday special: Stealing Stealing Quietly Quietly
Vidya Balan-Emraan Hashmi in 'Yeh Ganda Chitra'
Salman Khan, Shahrukh Khan and Aamir Khan: It's all about the name
Mogambo khush hua? Mogambo became happy?
Shahrukh Khan: In which film I die, film becomes superhit!
Is 'Kahaani' an apt movie title for a thriller?
BADE ACCHE LAGTE HAIN: In the distance between arms, two loves are meeting

Kareena Kapoor says: I Am Crazy of Love!
Salman Khan in Dabangg: I will make many holes in your body
Rajinikanth said: The time for me to come has come, the time for you to go has come