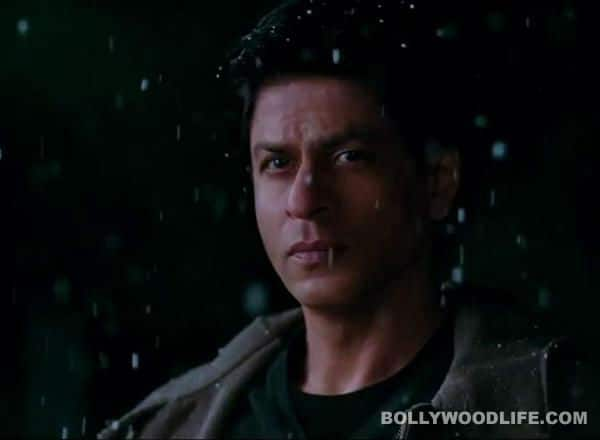 Shahrukh would do well to look at the experiences of his illustrious predecessors and see how they successfully transformed their careers from leading men to character artistes
The writing is on the wall, or rather, the writing is on his face. Shahrukh Khan, who we all thought would remain an eternally young romantic hero, is ageing. Age lines are appearing on his face faster than a wall cracking during an earthquake. Some digital smoothening was done for RA.One and Jab Tak Hai Jaan but in his real life public appearances like during the Indian Premier Leagu (IPL), the ravages of time are clearly visible on his face. The question is, just how long can SRK continue playing a young romantic hero? He was impressive as the gruff, bearded army officer in Jab Tak Hai Jaan but unconvincing in his younger avatar.
To look at Shahrukh's future let us examine the past of two of his predecessors, namely Dilip Kumar and Amitabh Bachchan. Shahrukh will turn 48 this year. Dilip Kumar was 48 in 1970. He had no releases that year. In fact, his last release was Aadmi in 1968 and his next films Anokha Milan and Dastaan were in 1972. Gopi was his sole in 1973 and the following year, he had a guest appearance in Phir Kab Milogi and a starring role in Sagina. The box office failure of Sagina prompted Kumar to try for a comeback with a vengeance and the result was the 1976 release Bairaag where he essayed a triple role. Sadly for him, the film bombed and the star realised that his star was on the wane. He took a break for five years and came back strongly with Kranti in 1981, playing a role more commensurate with his age.
Amitabh Bachchan's career graph follows a similar trajectory. He turned 48 in 1990. Bachchan's star was already on the wane by then. Aakhree Raasta (1986) was just about okay at the box office. And then came Gangaa Jamunaa Saraswathi (1988) that was a disaster for all concerned but his reputation was partially redeemed by Shahenshah (1988). 1989 saw him win acclaim but not box office with Main Azaad Hoon and then came the twin box office duds that were Toofan and Jaadugar (as an aside, please do watch them again – they are not as bad as the audience of the time made them out to be). Thus, in 1990, the Bachchan aura had all but vanished, but the year proved to be a comeback for him, with Agneepath winning acclaim if not box office and the execrable Aaj Ka Arjun proving to be a hit. The success of Hum in 1991 was severely offset by the tanking of Ajooba, Indrajeet and Akayla.
The Bachchan magic was back with Khuda Gawah (1993) but took a beating with Insaniyat (1994), Mrityudaata (1997), Major Saab (1998), and 1999 releases Lal Baadshah, Sooryavansham, Hindustan Ki Kasam and Kohram. The lone hit amongst this carnage was Bade Miyan Chote Miyan (1998) but the success of that was due to the David Dhawan/Govinda combination rather than any lingering vestige of audience love for Bachchan. Bachchan was 57 when he finally decided to hang up his hero boots. No stranger to playing older roles (he was playing much older characters as early as 1976 in Adalat and Kabhi Kabhie), he assumed what is now his current persona in 2000 with Mohabbatein and Kaun Banega Crorepati (KBC).
Shahrukh would do well to look at the experiences of his illustrious predecessors and see how they successfully transformed their careers. Bachchan did not learn from Kumar and made several ill-advised career choices in order to hang on to his leading man status, unlike the older man who realised quickly enough with just two flops that his time was up. Amongst the Khan triumvirate (Saif Ali Khan doesn't count, as usual), Aamir Khan, also 48 now, seems best equipped to seamlessly move to older roles. Salman Khan, who will turn 48 this year, is not really cut out for character roles, as he doesn't have the acting chops for it and will continue his heroic roles for as long as the box office will support it. It is Shahrukh who has to make that tough transition.
The only man in India who continues to be a Superstar despite being in his sixties is, of course, Rajinikanth.