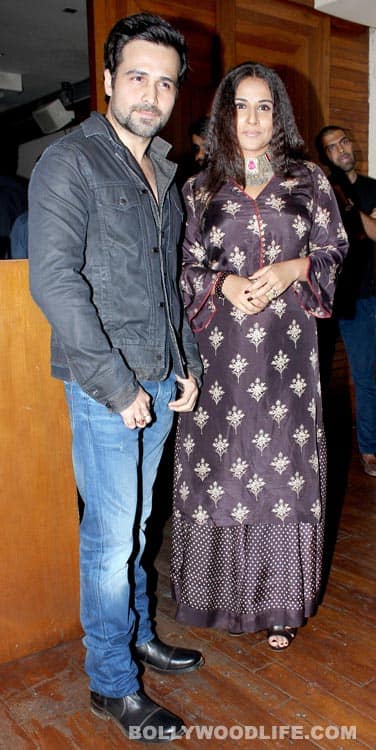 skip advertisement
From tablecloth-inspired sarees to a mix of medieval wizarding robes and bridal wear, Vidya Balan is having a string of bad style days…again!
With great celebdom comes great responsibility, and the reality of living and dressing properly under the ever-watchful gaze of the media eye! And in such a position, all the star has to do is use his or her good sense, or just a good stylist, so as to not end up looking like Vidya Balan often does.
We thought she had cracked the fashion code, adapting her passion for sarees to her rather voluptuous curves. And as those said curves get increasingly…err….curvy, we figured (sic) that her pet designer Sabyasachi Mukherjee would simple fiddle a border here and a gota applique there to get her looking fabulous. But sometimes even the best of the best goofs up. And Vidya did it again. She was seen at an end-of-shoot do for Ghanchakkar (directed by Rajkumar Gupta and co-starring Emraan Hashmi) wearing an outfit that looked like a cross between Dumbledore's robes from a tacky desi version of a Harry Potter movie and an old lady's kurta-gharara, adding up to something that spelt disaster from the moment anyone laid their eyes on it. And the final nail in the style coffin was the pseudo-tribal choker she wore that looked like it weighed a ton and dragged her style quotient down to unrecorded depths! And to compound the felony Vidya, who has lovely, naturally wavy hair, crimped her locks so severely that she may need a couple of week's worth of salon treatments to get it back to healthy normal.
This is second time in a row and the umpteenth time overall that Vidya has turned up dressed up… well…like her badly dressed former self – remember the Kismat Konnection days? And that neon-orange Manish Malhotra anarkali from an awards event? Just two days ago Vidya looked like she had Sabyasachi hurriedly convert a tablecloth into a saree. Pity, since the superb actor, now glowing beautifully post marriage to her beloved, Siddharth Roy Kapoor, can look so classic and elegant when she wants to. Maybe a change of stylist, Vids?