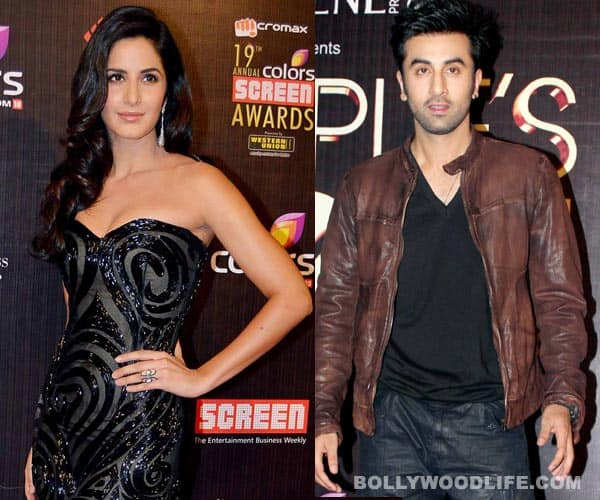 The couple is commitment phobic and workaholic at the same time, but are still trying to live in together. Where does that leave us? Confused…!
When Ranbir Kapoor returned to India without Katrina Kaif after celebrating the New Year's eve in New York, media talked a lot about how Kat decided to stay back 'coz of her ill health. But we got to hear that Ranbu and Kat have been fighting and the cause has been the Kapoor lad's commitment issues. Then there was another side to the story, which said that Salman Khan's ex girlfriend has rejected Ranbir because she doesn't want the chains of marriage to confine her career. And now, it seems the rumour mills have gone totally berserk, 'coz this time they have churned out a story of them looking for an apartment together in New York. Hey…. what's happening? Will anyone clear the air? 'Coz we are dizzy with all the chaos!
We all are aware of Ranbir's commitment phobia. In Koffee with Karan season 3, Sonam Kapoor and Deepika Padukone had talked about the Barfi actor's issues where they had maintained that while Ranbir was a great guy, he was not ready to take the relationship to the next level. Even in KWK season 4, when sister Kareena Kapoor Khan addressed Katrina Kaif as her sister-in-law, Ranbir was shocked and did not admit to the relationship.
On the other hand, Ranbu's lady love Katrina is also not far behind. Kat had also proclaimed that she is more focussed on her career, and that she doesn't have time for any man in her life now. We know that the two are busy actors, but if they are to take their relationship to the next level, they should definitely commit to each other, hai na?
While we were still mulling over who's the culprit in this commitment saga, we heard another afwaah that totally floored us. Apparently, the duo has been searching for an apartment together in New York. Doesn't this show that they are definitely ready to take another step towards happily ever after? Then why are they not coming out in the open about their relationship, and why are they still maintaining the 'good friends' tag? We really are confused!!
After the new year merriments, the Ajab Prem Ki Gajab Kahani co-stars will soon start shooting for their next movie together, Jagga Jasoos. Well, we hope that all these stories are just for us, and that Ranbina have it all sorted. Coz after all we'd love to see them together and happy without the commitment phobia tags. Wouldn't you BollywoodLifers?