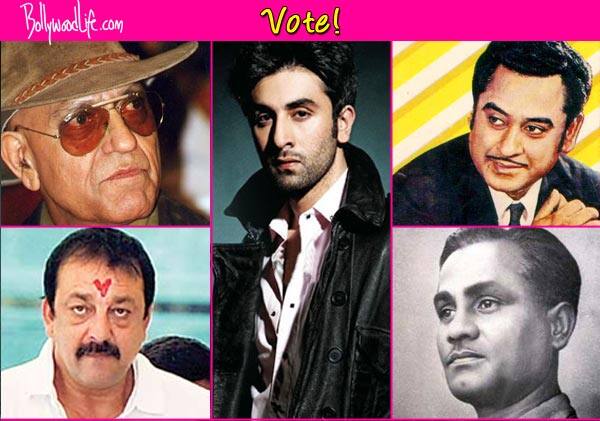 The Kapoor lad has been offered four biopics, which has left him confused
In the last few years, Ranbir Kapoor has been offered to star in upcoming biopics on Sanjay Dutt, Amrish Puri, Kishore Kumar and hockey player Dhyan Chand. However, with too many choices, Ranbir is not able to decide as to what biopic should he do. So we at BollywoodLife thought to help him to make a choice. Let's take a look at each and every biopic that he has been offered and see if the Bombay Velvet actor would be able to pull it off or not.
Sanjay Dutt – A biopic on the Munnabhai MBBS actor would surely be an interesting watch thanks to all the controversies that the actor has been embroiled into. However, Ranbir is the last person in B-town we would like to star in that biopic. We just can't imagine him playing Sanju baba on the silver screen.
Amrish Puri – Rumour has it that Ranbir is very keen to play the late Amrish Puri on the celluloid. But then again, we just don't want him to do that. This is one role that will be challenging to portray and it would be better if a senior actor plays that role than Ranbir.
Kishore Kumar – Now this is the biopic we would definitely want Ranbir to do. In fact, Anurag Basu, who is directing the biopic had already confirmed that the Besharam actor is certainly a part of it. We can so imagine Kapoor doing those Kishore Kumar antics on the 70mm.
Dhyan Chand – Ranbir has a very athletic kind of a body and he will be apt to play the hockey player. And with Bhaag Milkha Bhaag, we have seen how biopics on sports personalities have worked wonders.
Well, that was our view. But you tell us what biopic should Ranbir do? Vote!