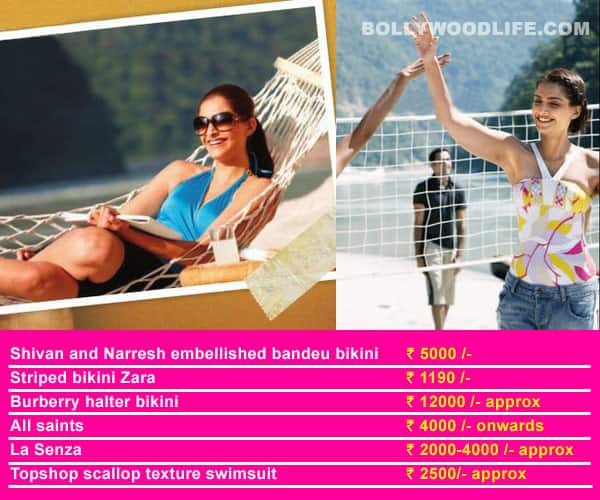 The babe is reportedly all set to don a sexy two piece in her new film and we wonder how papa Anil Kapoor will react to this…
Yash Raj Films' honchos have always made sure that their babes follow the 'if you have it, flaunt it' mantra. Esha Deol  and Bipasha Basu have done it in the Dhoom series. Anushka Sharma created waves with that teeny-weenie black bikini in Ladies VS Ricky Bahl  and Kareena Kapoor looked super hot in that lime-green two-piece in Tashan.
Guess it's Sonam Kapoor's turn now – and she has to convince Daddy Anil Kapoor that it is a requirement of the script coz  c'mon, every father is a tad possessive of his little girl, after all. We are sure SK will do a great job of getting AK out of his sulky mood when he finds out about that teeny-weeny….
But there's one more thing we are sure about, and that is that Ms K is not going to settle for anything run-of-the-mill. She will most likely opt for a vintage style or else, trust Sonam to surprise us with some wacky design! But here are a couple of options she could try if the bikini search is still on. And, of course, if it's that time of the year when you are planning to hit the pool or go on a holiday to the beach, you must consider these brands!