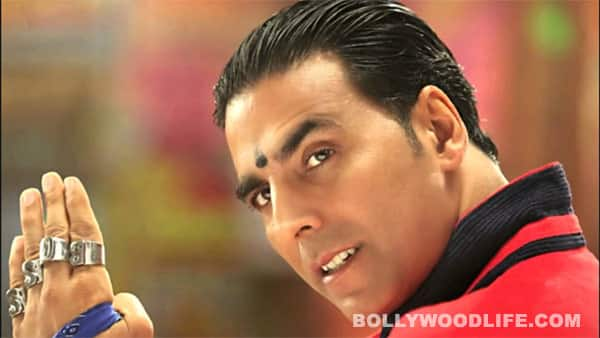 The Khiladi Kumar is in the mood to employ his action moves to best effect. But we wonder – who will be subjected to Akki's deadly karate chops?
Nobody in B-town does action like apna Akki does. The super-fit dude knows how to deliver those deadly punches and kick some bad asses with amazing panache. And here's the hottie shaking his booty even as he thrashes some goons in a song from his upcoming movie Boss. Inspired from the popular Apdi pode, the new track Hum na chorre tode phode is slowly moving up the charts. We converted this high-on-adrenaline song into English, word-for-word, but could not figure out in the end who exactly does Akki want to break, shatter?
Hum na chorre, tode, phode
Jo bhi humse panga le
We don't leave, break, shatter
The one who takes challenge us
Collar nikal ke
Jeans phati daal ke
Duniya ko baandh ke
Apne rumaal se
Hum toh chale jhoomte
Daayein-baayein ghoomte
Hey! masti full-on re
Rokega kaun re
Arey! masti full-on re
Rokega kaun re
Collar taken out
Jeans tattered put in
The world has been tied up
With a handerchief
We walk swaying
Righ-left wandering
Hey, fun full-on
Who will stop?
Hum na chode, tode, phode
Jo bhi humse panga le
We don't leave, break, shatter
The one who takes challenge us