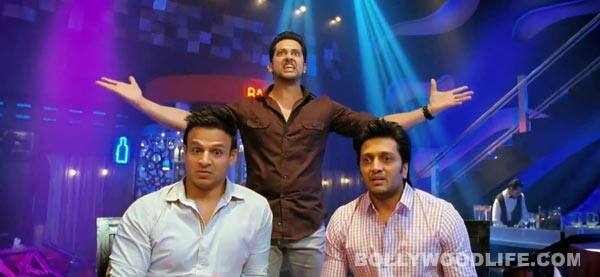 The tittle track of Grand Masti is as bizzare as its storyline. We translated the number into English only to be shocked by the result of our quirky endevour
Indra Kumar's upcoming movie Grand Masti is about three friends played by Vivek Oberoi, Reteish Deshmukh and Aftab Shivdasani who want to have some naughty fun. The sex-deprived trio is going wild with their raging libido. Reflecting the sentiments of their naughty intentions is the title track of the movie which we translated into English word for word. The result of our efforts got lost in translation!
Pyaar ka signal de de baby
Raat ke baj gaye 12:00
Love of signal give me baby
Night of hitting 12
Engine dil ka dhadhak raha hai
High ho gaya paara
Engine of the heart is beating
High has gone the mercury
Chumma tere gaalon ka
Favourite hai dil waalon ka
So let's do it baby, do it baby
Do Grand Masti…
Grand Masti, Grand Masti, pe pe pe..
Kiss of your cheeks
Is favourite of those who have hearts
So let's do it baby, do it baby
Grand fun, grand fun..pe pe pe