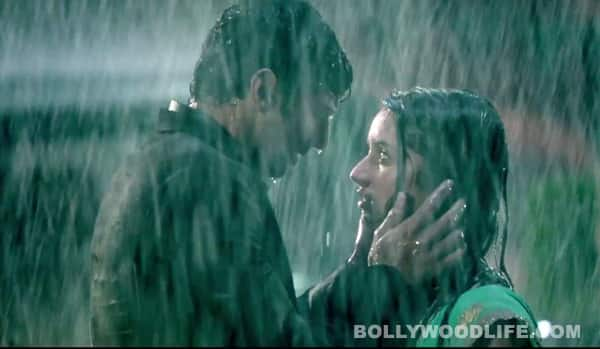 In Mohit Suri's Aashiqui 2, we see Aditya Roy Kapur and Shraddha Kapoor expressing their love for each other in the romantic track, Tum hi ho. Read on to find out what exactly does it mean
We know filmmaker Mohit Suri and composer Mithoon will not spare us for messing with (read translation) the meaningful lyrics of their lovable and soothing composition, Tum hi ho from Aashiqui 2. The result of the English translation is so funny, yet so irritating that you'll feel like throwing away the coat under which the lovey-dovey couple share a passionate kiss. Take a look at our version of You only is aka Tum hi ho!
Hum tere bin ab reh nahi sakte
Tere bina kya wajood mera
Tujhse judaa gar ho jaayenge
Toh khud se hi ho jaayenge judaa
We yours without now stay not possible
Yours without what identity mine
From you separate if ho going
Then own is only ho going separate
Kyunki tum hi ho
Ab tum hi ho
Zindagi ab tum hi ho
Chain bhi, mera dard bhi
Meri aashiqui ab tum hi ho
Because you only is
Now you only is
Life now you only is
Calm also, mine pain also
My love now you only is
Tera mera rishta hai kaisa
Ik pal door gawara nahi
Tere liye har roz hai jeete
Tujh ko diya mera waqt sabhi
Koi lamha mera na ho tere bina
Har saans pe naam tera
Your mine relation is how
One second far away afford no
Your sake every day is live
To you given my time all
Any minute mine no ho yours without
Every breath on name yours
Tell us if the other songs of Aashiqui 2 can create the same hysteria the original 1990 musical hit had generated.