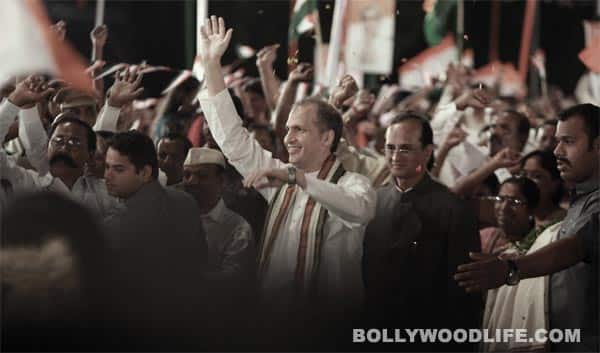 Surprisingly, the characters in Shoojit Sircar's upcoming spy thriller bear striking resemblance to real life public figures, but the makers insist their movie is a work of fiction
As the release date of Shoojit Sircar's political thriller Madras Cafe starring John Abraham and Nargis Fakhri draws near, the makers have pulled up their socks and are leaving no stone unturned to publicise their film. And considering it's based on the Sri Lankan war
of the '90s, they are handling it tactfully to avoid controversy.
Last week we stumbled upon an exclusive still of the movie, that of Tamil actor Ajay Ratnam whose character is similar to dead LTTE leader Velupillai Prabhakaran. About Nargis's character – insiders suggest that it's loosely based on real life journalist Anita Pratap, who interviewed the late LTTE chief Prabhakaran. And today we came across a picture from the film that shows someone who resembles the late Indian Prime Minister Rajiv Gandhi (see pic)!
Set in the early 1990s, Madras Cafe has moments that link to the time of Rajiv Gandhi's assassination. It was reported that the LTTE had a hand in the slaying of the late PM on May 21, 1991, in Tamil Nadu and the film is set against this backdrop. Though John is said to be essaying an Intelligence Officer of the Special Forces, we are curious to know which real life personality he is actually playing in the film.
Despite the makers claiming that their new war-based film is a work of fiction and all the characters are fictitious and bear no resemblance to any person living or dead, similarities between the real and reel life characters as seen in the pictures tell a different story. Guess we – and you – will have to wait to find that out!