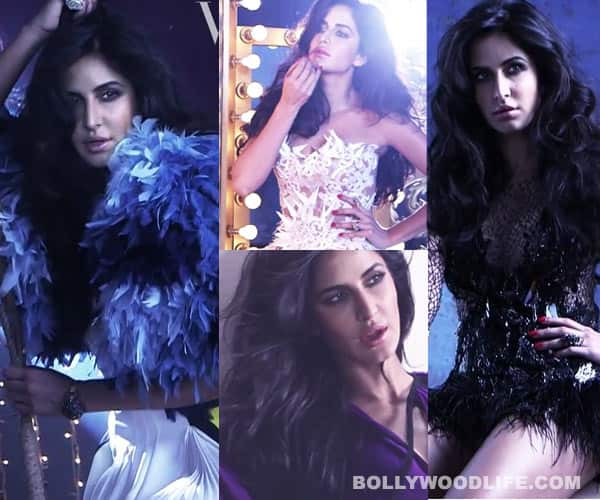 Though the Dhoom:3 lady has been linked with Ranbir Kapoor for a long time now, is he her Mr Perfect?
Katrina Kaif is the cover girl for Vogue's December issue. During the photo shoot, the lovely lady shed some light on her idea of a perfect man and what the first thing is that she notices about a guy. and she posed so casually and easily as she talked, saying that "I started off as a model, so it's always interesting and finally good to be back on a photo shoot. Nowadays, it's less common and very rare that we get to be on a magazine shoot." Really? In fact, these days, with so many magazines available, don't we see too much of the same actor posing for the cover of every glossy on the rack?
But more about the kinda guy that Katrina prefers. The first that that KK notices about a man is "his vibe, his personality and his aura. That feeling you get from him if he's warm, trustworthy and caring." Hmmm… so more than looks, our pretty lady is moved by emotions, huh? Would Kat prefer a man who can cook, or one who loves to eat? Kat says, "Either one is fine for me. Cooking is not that important. I think, a guy who likes to eat." So we can expect Katrina's better half to be well-fed – but can she cook?
Also, Katrina would prefer her guy to be in a tuxedo over a sherwani. She says, "A tuxedo is classic and always looks good. It's gotta be the right one, cut, style of it – black tuxedo is foolproof!" Well, we hope Ranboo is reading this. Remember, our firangi babe doesn't want you to go down on your knee in desi kapde!
These are just bits of what the Dhoom:3 girl seeks in her guy. Here's the main goss: On being asked if she prefers wild party boys or strong silent types, she says, "Both strong silent type and party type, without wild." Well, does Ranbir fit in with these criteria? Nah, not really, hai na? In fact, wethinks he only suits the part that she doesn't want. Wink, wink!
[flv image='http://st1.bollywoodlife.com/wp-content/uploads/2013/12/Katrina-Kaif-Vogue-Shoot.jpg']http://st1.bollywoodlife.com/wp-content/uploads/2013/12/Katrina-December-Vogue-photoshoot1.flv[/flv]