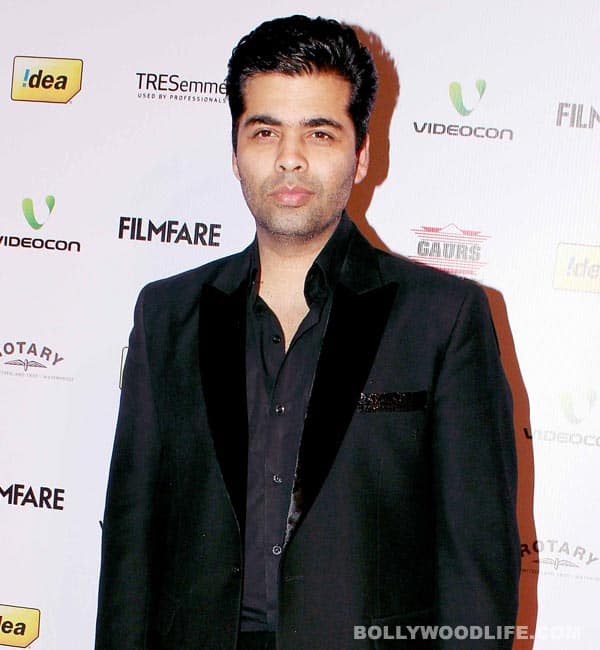 KJo is a successful director-producer; every actor dreams of working with him and his chat show on the small screen is doing extremely well. So why is the talented filmmaker insecure? And of whom? Read on to find out…
Dharma Productions' head honcho Karan Johar is insecure. The Student of the Year director confessed this in an interview recently. He said, "I am very insecure about these young filmmakers. I am constantly on my toes so that I know what others are doing. And that is why I made such a young film – 'Student of the Year' – so that I could cater to the youth. I made a high school film when I was 40-year-old." Frankly, wethinks that in an industry like Bollywood it's healthy to be insecure; after all, the competition only gets tougher with every film, no? Also, the face of Hindi cinema has changed thanks to younger directors like Imtiaz Ali, Anurag Kashyap and Anurag Basu, who prefer not to walk down the conventional path. And that, added to the masala movie makers like Ayan Mukherjee, Punit Malhotra and Shakun Batra and the established old-schoolers are sure to be worried, we know!
We do think that KJo too is justified in being insecure – frankly, larger-than-life family dramas and love stories like Kabhi Khushi Kabhi Gham don't define Bollywood any more. But at the same time, if you think about it, the Koffee with Karan host really has nothing to worry about. He is the director who gave us the critically acclaimed Bombay Talkies segment with Rani Mukherji and My Name Is Khan with his favourite power-couple Shahrukh Khan and Kajol. Even Kabhi Alvida Naa Kehna was a change for him, with far less candyfloss than anyone expected. We have seen the filmmaker go out of his comfort zone, experiment with new ideas and taste success with it. So there is no reason why he can't keep up with younger filmmakers, hai na? It's just that Karan has to take the not-so-conventional route more often, citing his newer paths as experiments. Budding directors, on the other hand, have to fill big shoes, coz not every filmmaker can tackle emotion like KJo does in his work; for him it's a cakewalk.
Why else do we cry every time we watch Rahul and Anjali painfully find and admit love?