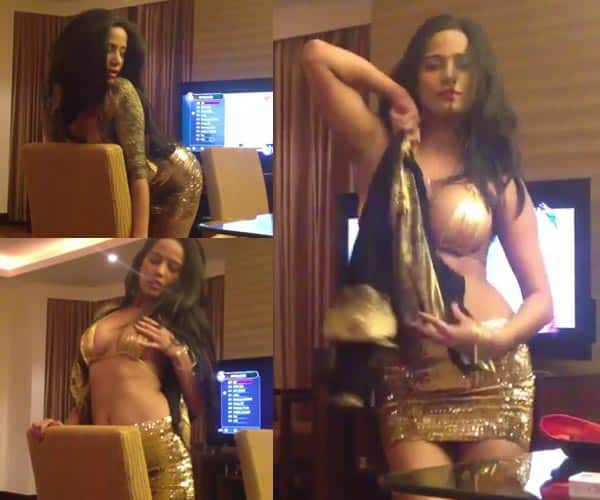 The Pandey pataka takes her desperation to a whole new level to fetch the much-needed attention. Take a look at her fresh antics and tell us BollywoodLifers how to stop this babe from doing whatever she does and put some sanity into her raunchy head!
Butt-numbingly thanda and mind-numbingly repetitive, Poonam Pandey unleashes her wild (read: desperate) side to pull off something that can appropriately be called her ( and, strictly her alone ) idea of a lap dance! For viewers though, it's yet another titillating show from Poonam that ultimately goes tie-tie-phiss…
It's a different debate altogether that neither we see the lap of a receiver nor any sparkle in the Nasha babe's moves. Poonam heaves her ample bosom tightly stuffed in a jhatak golden bra. And when she is done with employing her assets,  Miss Pandey starts pulling off that teeny-weeny skirt below the permissible limit to give a glimpse of her twinkling undies!
Oh C 'mon Poonam, it's high time that you move over the regular stuff. In a day and age, when 'spicier, more entertaining and certainly more exciting' content is available on the net so readily, it's an absolute must that you try something innovative or better still take a lesson or two from the Kardashian sisters to keep it fresh and engaging!