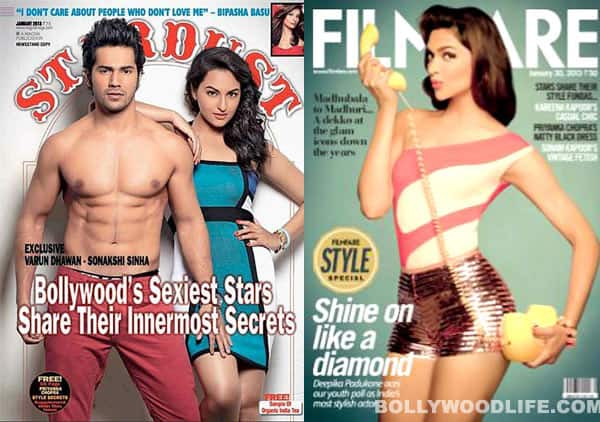 While Varun Dhawan and Sonakshi Sinha sizzled on the cover of popular film mag Stardust, Deepika Padukone looked like a retro queen on the Filmfare cover
Varun Dhawan and Sonakshi Sinha look like such an unconventional pair, but the couple still managed to pull off a stylish pose on the cover of Stardust. The Student Of The Year dude is raising temperatures with his delectable six-pack abs and Sonakshi Sinha is just playing herself – in a causal blue and white dress. The pair reminds us of Kareena Kapoor and Imran Khan in Ek Main Aur Ekk Tu (2012). Just the way Imran and Bebo didn't exactly complement each other 'coz of their age but still made for a fun 'partner in crime' pair, Varun and Sona also seem like a couple who are all set to create a riot of sorts. Varun's charm in a way complements Sinha's playful demeanour.
Just when you thought we are going on a raving spree, you haven't seen us complimenting Ms Padukone yet. She looks like such a vintage rockstar on the January issue of Filmfare. The shiny pants, the one-shouldered contrast-coloured pink and white top and the feline style eye make-up lends a very 'drama-queen' kinda look to DP's personality.
A smokin' hot Deepika all set to rattle away on her funky vibrant yellow telephone or the playful, young and stylish Varun and Sonakshi creating a statement with their infectious attitude – which cover do you like the most?