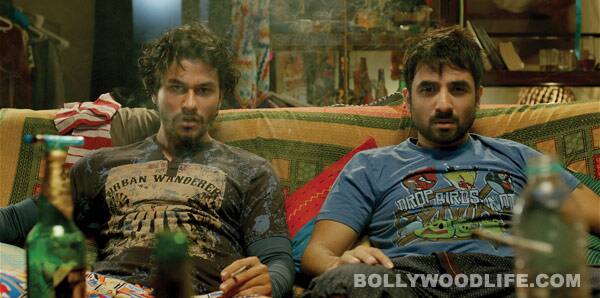 The two actors hilariously represent the plight of people who have to endure Monday morning blues
In the latest wacky song, Khoon choos le from Saif Ali Khan's Go Goa Gone, Kunal Khemu and Vir Das can't stop talking about the worst day of the week – Monday and its after-effects. For most of the people, getting back to work after a fun-filled weekend is a big put off. And these very sentiments are aptly depicted by Khemu and Das. So how can we miss translating this crazy number into English word-for-word?
Aye le!
Phir aa gaya tu! Face utha ke
Dum lega kya, meri jaan kha ke
Khoon choosne tu aaya khoon choosne
Bloody khooni Monday kyun aaya khoon choosne
Aye take!
Again come gone you! Muh lift ke
Breath take what, mine life eat ke
Blood sucking you come blood sucking
Khooni bloody somvaar why come blood sucking
Tu jaa re jaa re ja, kabootar jaa
Main nahi jaana, Main nahi jaana
Main nahi jaana bistar ko chhod ke
Khoon choos le tu mera khoon choos le
Bloody khooni Monday tu chaahe choos le
You go re go re go, pigeon go
I not go, I not go
I not go bed leave
Blood suck take you mine blood suck take
Khooni bloody somvaar you wish suck take
We are sure you'd relate to the hatred and bitterness depicted in the song! After all, we too sail in the same boat, right BollywoodLifers?