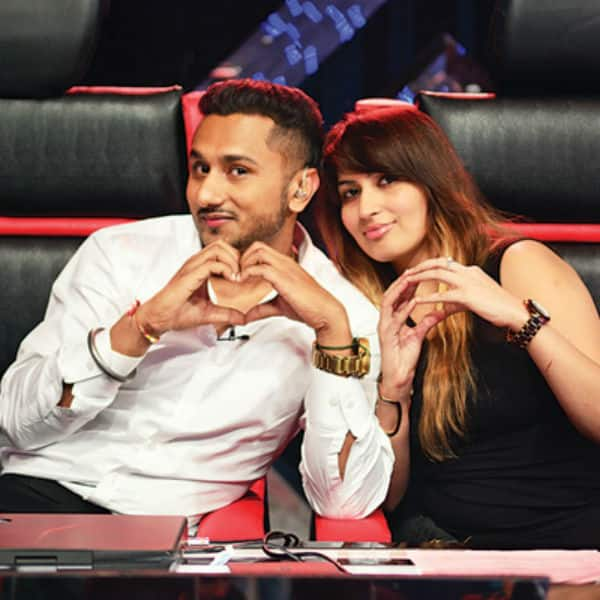 The popular rapper-singer can be seen striking a quirky pose for the shutterbugs alongside a pretty lady. Who is she? Read on to find out…
We have seen him rapping, singing, dancing acting and now mentoring contestants on his reality show India's Raw Star. But the audiences witnessed a different side, an emotional and nervous Honey Singh at a recent shoot of his reality show. His album Desi Kalakar was to release the next day and the singer-rapper was extremely nervous, says a source.
"He was very anxious as a result of which he couldn't shoot. And it resulted in a four-hour delay. Initially, we saw Honey talking continuously to someone over the phone. After some time he just packed his bags and got out of the sets. He was waiting for somebody and only when the person got out of the car, we realised it was his wife. Honey was so nervous that he refused to shoot till she came on the sets!"
Only when his pretty wife – her name is Shalini – arrived and calmed him down did Honey resume the shoot. Even then after every performance by a contestant, Shalini would take Honey back stage, talk to him and see to it that he was cool and calm. Finally, the Lungi Dance singer, called his better-half on stage and introduced her. He apologised to everybody for the delay saying, "Today I have realised that Shalini is very important to me and right about everything. On her birthday (August 14), when I asked her what she wanted as a gift, she said she wanted me to listen to everything that she says. Today I make that promise to her."
This is the first time Honey has talked about or introduced his wife. He has never been comfortable talking about her so much so that very few knew that he is married!