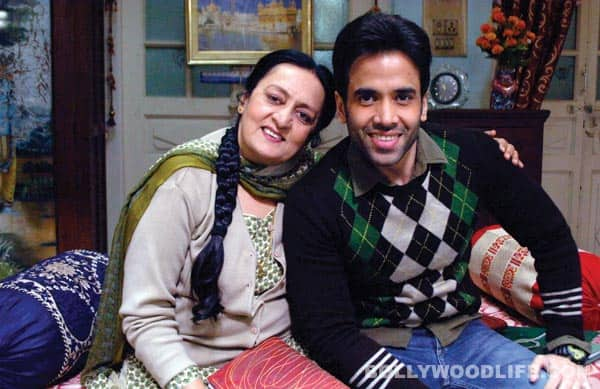 Unexpectedly, someone we all watched and fell in love with in Ayushmann Khurrana's Vicky Donor!
From the affable but mute Lucky in the Golmaal series to memorable character roles in The Dirty Picture and Khakhee, Tusshar Kapoor is now ready to play a pucca Delhi-ite in his next film, Bajaate Raho. While the actor managed to get his onscreen character right, it was the off screen hitches that pushed Tusshar to take Punjabi lessons.
A little birdie told us that Tusshar was bullied by his co-stars Ranvir Shorey and Vinay Pathak on the sets during the shoot. The duo refused to converse in any other language but Punjabi with the lad, even after shooting for the day was done. Tusshar's onscreen mommy Dolly Ahluwalia (who captured hearts and fans with her role in Vicky Donor) took pity on the poor Kapoor boy and decided to turn teacher for him. She would sit him down for four to five hours every day after work for the film was done and conduct Punjabi lessons. And we hear the actor has now mastered the language, at least well enough for his co-stars to stop hassling him.
So will we see Tusshar turn towards Punjabi films soon? Well, we're sure he will manage to entertain us in Punjabi as well as he does in Hindi, or even in the garble he spouted in Golmaal. After all that Rohit Shetty-directed series would never have been the same without the mute Lucky, no!