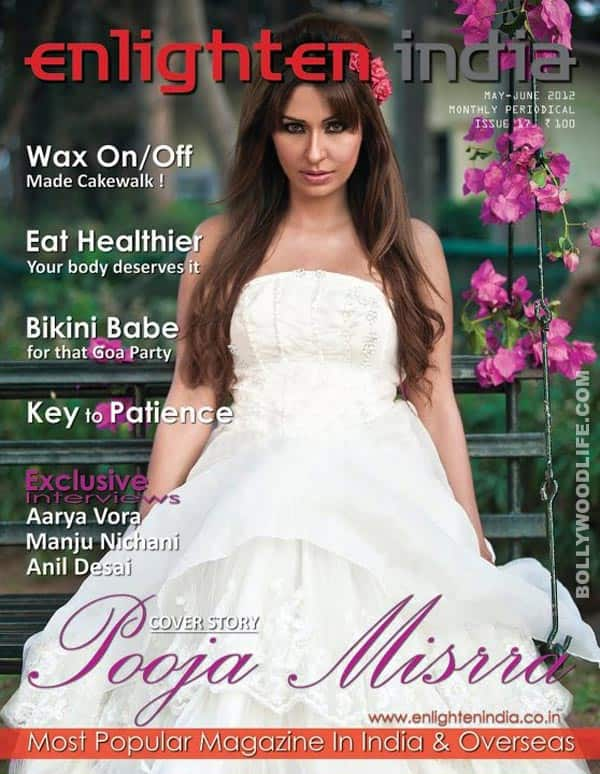 After showcasing her not-so-polite side to the whole wide world by engaging in a never-ending string of fights on Bigg Boss 5, Pooja Misrra, we thought, had gone into hiding. The belligerent babe has now come out of hibernation, totally revamped!
This is Pooja Misrra, ladies and gentleman! The bespectacled babe of Bigg Boss 5 who would jump at every opportunity to pick up a fight only to take it to its logical conclusion…the next fight, that is!
The aggressive gal has been missing in action of late. We did not see much of her infamous explosions and anger bouts after her exit from the reality show, though we expected an ad commercial or two showcasing Pooja, perhaps throwing one of her famous tantrums. But now the belligerent gal has undergone a total metamorphosis.
We spotted Pooja on the cover of Enlighten India magazine. The Misrra gal slipped into a fluffy white frock to pose in. Though her torso doesn't look relaxed in that white corset, we bet Pooja squeezed herself (quite aggressively) to look polite in that outfit. Nevertheless, if this makes Pooja happy and calms her fiery nerves, we are all for it. May peace prevail on Earth!