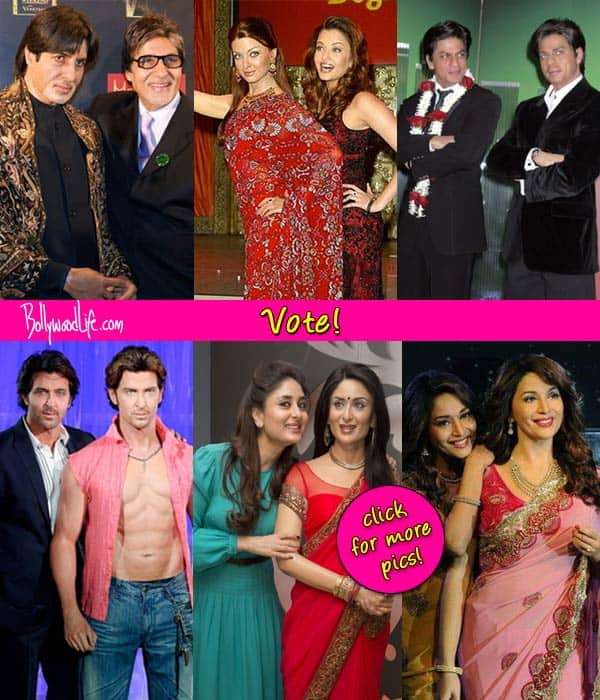 skip advertisement
Among all the B-Town celebs who are present in the prestigious London wax museum we wonder as to who found a lookalike. Vote!
With Kareena Kapoor Khan's second wax statue being installed at Madame Tussauds a few days back, we decided to have a look at all those who have a statue at the prestigious London wax museum. The museum has been the pioneer in this field and its art has been replicated by many artists across the globe. Famous B-Townies like Shah Rukh Khan, Salman Khan, Amitabh Bachchan, Aishwarya Rai Bachchan, Hrithik Roshan were already present at the wax museum and with Bebo's second installment, the Indian presence became even more prominent there.
Shah Rukh has been standing at Madame Tussauds since 2007, becoming the first Indian there. Shah Rukh's statue was criticised for not looking exactly like him, but SRK was very happy with the fact that he was the first Indian celeb there. The look was inspired by the numerous stage hosting that SRK had done over the years.
Salman has been making his presence felt since 2008 after beats 9 other Bollywood stars in a vote over whose figure should appear there. Salman's look idolised his characteristic well built look. His well sculpted body was depicted pretty well but his face cutting missed slightly from the mark.
Kareena has been gracing the prestigious museum since 2011. Recently another statue of hers was put up in the museum. The first statue had her in her Mauja Hi Mauja (Jab We Met) look and the new one has her in her Chammak Challo (RA One) look. Kareena's first statue looked more of an exact lookalike, but the new one seems to have missed the mark by inches.
Hrithik has been present at the museum since 2011 and he sports his Dhoom 2 look there where he is seen flaunting his six pack abs. Hrithik went for the opening ceremony with his wife and kids and made for a beautiful photo. His six pack abs were definitely well sculpted in the statue but his face looked less like him and more like his body double.
Aishwarya has been sporting a saree look at the museum since 2011. Her characteristic look was from her film Action Replayy. The wax statue captured her dance step nicely and also the dressing was very perfect. Her face cutting too was very similar. But later on some other wax museums made her sculpture even better, making this one look less perfect.
Amitabh Bachchan has been in the museum since 2009 and he is seen in his characteristic white french beard look, which he has been sporting since his KBC days. Amitabh, however, doesn't look very different from his present day look. The towering figure and his face cutting had been matched with perfection.
Madhuri Dixit Nene has also been in the museum since 2012 and she looks very gorgeous in her saree avatar. Her saree look was more inspired from her Jhalak Dikhhla Jaa appearances. Her stance and posture were very perfectly imbibed and her look too was matched with great skill.
So go ahead BollywoodLifers, have a look at all these images and let us know as to whom among these do you think has the best lookalike in the prestigious wax museum at London.