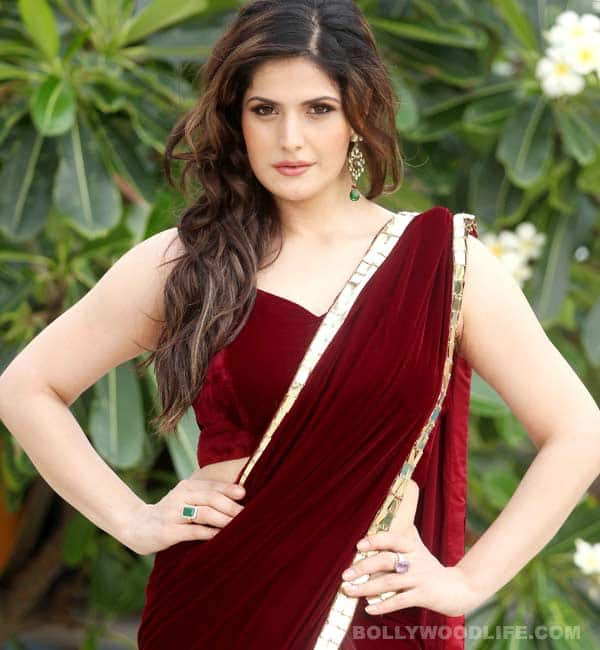 It could easily have been her Veer co-star Salman Khan who is a fitness freak himself. But it wasn't Sallu, nor any director or even a film that compelled Zarine to get slimmer. Then why did Ms Khan go on a weight-loss mission?
Zarine Khan is looking distinctly slimmer these days. Yes, the last time we saw her, she seemed to be a mere shadow of her former self – but considering how well…err…rounded that former self was, this is a welcome change. But when we asked why the Veer heroine decided to show off a more svelte self, we were rather startled at her reply – the voluptuous Ms Khan has lost weight for the MEDIA. Yes, no matter how bizarre it sounds, it's true! Ever since Zarine made her debut in Bollywood, she was talked about for just two reasons – her weight and her uncanny resemblance to Salman Khan's ex-girlfriend Katrina Kaif. She received a lot of flak from the media for being more plump than she could – or should – be. So recently, when this B-town babe was in full focus at an event and was asked about her slimmer avatar she said, "No, it's not for any film. I have lost the weight for you (media)…there was a lot of criticism from you all!"
But Zarine is not the only one under media scrutiny. Sonakshi Sinha and Vidya Balan have been constant targets for not being size-zero or conventionally slim and trim, hai na? Even new mummy Aishwarya Rai Bachchan wasn't spared the gimlet gaze of the press for her post-pregnancy weight gain and seeming inability to lose that baby-fat. So why should Zarine get so affected by what gossip reporters say? But there is an upside – apart from looking newly hot, maybe good film offers will come Ms K's way soon. And we all know who she should thank for that!
But here's the main point – when you're a public figure, everything from your looks to your weight to your pet puppy will be talked about, critiqued, pulled to pieces and constantly examined. So Zarine, if you weren't ready for it, you should have thoughttwice or more before entering filmi duniya, no? But worry not, coz you aren't the only one who loves to play the blame-the-media game. If you remember, a couple of weeks ago Katrina Kaif wrote an open letter to the press after pictures from her Spanish holiday with rumoured beau Ranbir Kapoor were splashed on the front page of a gossip supplement. And how can we forget the recent Anurag Kashyap drama? After venting his anger over a missed Oscar nomination (for The Lunchbox) on Twitter, Kashyap deleted his account but first posted: "Bye bye twitter… Enough feeding the wannabe journals…" Certainly shows that celebs are no longer the soft target they once were, no? And Zarine sure ain't as soft as she once was!
PS: Never thought we would say this, but Sona and Vids could learn one thing from Zarine – take media criticism seriously when it comes to a matter of weight and watch!