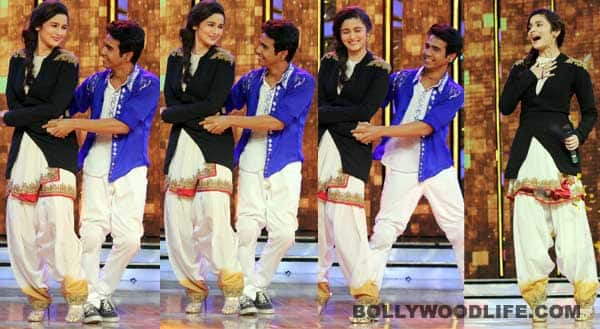 The Student Of The Year actor accepted someone's marriage proposal recently. But whose?
This might come as a bit of a surprise to you, but recently someone went down on his knee and asked Alia Bhatt, "Will you marry me?" Now before you jump to any conclusions, let us make it clear that it was not the Bhatt gal's alleged boyfriend Arjun Kapoor. Then who? Well, it was from Shyam – one of the contestants of Zee TV's popular dance reality show, Dance India Dance.
Alia was on the show to promote her upcoming film Highway, directed by Imtiaz Ali. Welcoming Alia on the sets, the crew showed her an AV of what the male contestants had to say about her. While Alia enjoyed watching what each contestant had to say about her, she was particularly impressed by Shyam. The talented dancer had expressed the desire to get married to her if he ever gets a chance to kidnap her.
Quite amused at the manner in which Shyam expressed his admiration for her, Alia confessed that she found Shyam genuine and thought he was just perfect. When show's host Jay Bhanushali asked Shyam's mother for an approval, she immediately agreed. Given that she is a good actor, can dance and has now proven her singing skills with a song in Highway as well, his mother thought of Alia to be the perfect bride for her son.
In a bid to impress Alia, Shyam asked her for a dance. And guess what, Alia agreed to perform with Shyam without hesitating even once; the two seemed to be in perfect sync without any rehearsals or retakes. Alia was not just impressed by Shyam's approach, but was amazed by his performance as well. Talking about his performance, Alia said, "I am glad that I chose you because after seeing your act… I know for a fact that you are a romantic at heart and you would do all it takes to keep the girl in your life happy."
Obviously, Shyam's happiness knew no bounds when Alia agreed to his proposal, even if it was just for a dance. Lucky boy, we must say.