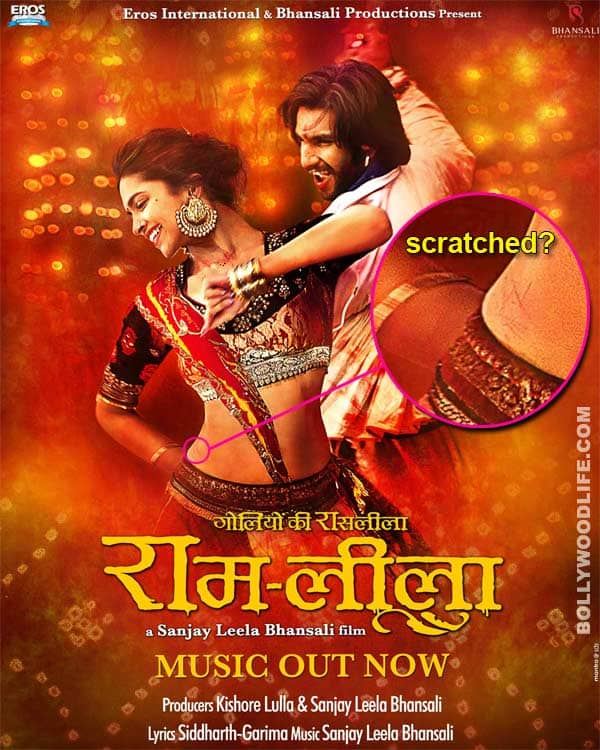 The new poster of Sanjay Leela Bhansali's latest film Ram-Leela is out, but those faint but meaningful scratches on Dippy's curvaceous kamariya made us asked the inevitable question…
Ever since the new poster of Sanjay Leela Bhansali's Ram-Leela was released, we found ourselves asking a curious question, especially after taking a good long look at Deepika Padukone's deliciously curvy body.
The leggy lass looks very teekhi-spicy in this new Gujarati flavoured production that looks like it is classic Bhansali, but something on her hot-haute bod made us take a second look…and a fifth. A few scratches we spotted on her waist grabbed our attention almost instantly. On closer inspection we figured the scratch – in the shape of a W – seemed to be the result of some hardcore action..err…action scenes! And who or what is W, we want to know!
What made us wonder even more was the fact that this mark could easily have been Photoshopped or even concealed with a dupatta or makeup. Have the makers kept it there deliberately, or did they choose to ignore it, thinking that it would go unnoticed? We don't know, but we sure want to!
PS: We hear that both Deepika and Ranveer had to undergo rigorous training sessions for their roles, as Bhansali wanted the two to get their action scenes as well as their dance moves pitch perfect. Did Deepika brush her flawless skin against something rough that caused the scratches, or shall we point the finger at naughty Ranveer Singh, who is always up to some mischief or the other? Only the lissome lass can tell…and we wish she would!