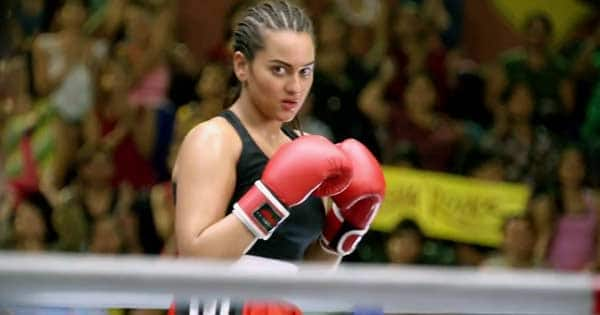 The feisty actor gets trained from a good looking boxer. Read on to know what this deal is all about..
Unlike our regular porcelain dolls in B-town, Sonakshi Sinha comes across as a woman who can deliver some solid punches with conviction, pretty convincingly. And we will see the feisty babe employing her fist to killer effect in her forthcoming movie Holiday co-starring Akshay Kumar.
We all know that Sonakshi Sinha's look in the movie is inspired by Laila Ali. To make her character look authentic and unbelievably strong, India's boxing champ Vijender Singh worked hard in tandem with Sona. "I trained Sonakshi for some days at my gym. I also shared some diet tips with her. She was advised to have only ghar ka khana, that too properly — with roti, sabzi and dal. I also asked her to drink lots of water and avoid high-calorie food," elaborated Vijender.
The producer of Holiday Vipul Shah confirmed that it was Akshay Kumar who got Vijender on board to train Sona. The result of this unique collaboration is so good that the movie goers will like Ms Sinha's character in the movie with her swift punches!