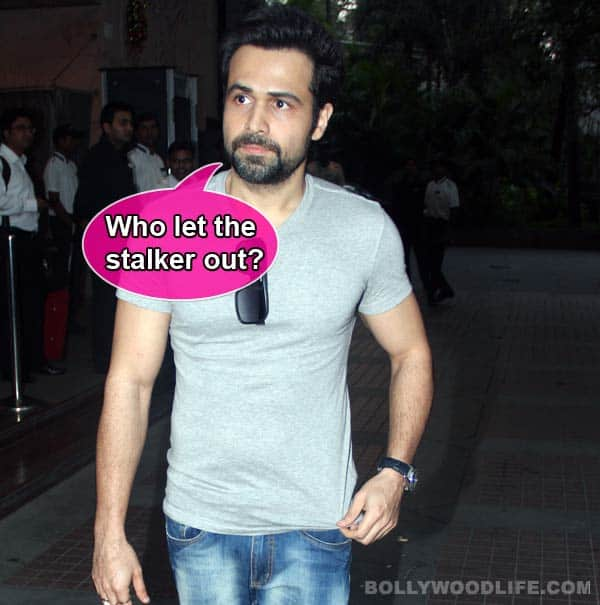 A stalker-an absolute stranger-landed at the serial kisser's den at 3 in the morning and demanded to have a chat with the star. Read on to know how this tamasha unfolded before the security had to intervene to put an end to the whole drama!
It's one thing to be greeted by a sea of screaming fans, and quite another to have one obsessive soul land at your doorstep 3 in the morning, shrieking and shouting, to have a chat with you.
In what can be called a loud commotion a young woman turned up at Emraan Hashmi's house 3 in the morning and started banging on the door of his Pali Hill apartment in Bandra, Mumbai, to meet the star and have a chat with him. The lady whose identity is not revealed as yet, breached the security of the building where Hashmi stays to create this tamasha.
Apparently, Emraan is shooting in South Africa for his next movie Mr X while his wife is attending his son in Canada who is undergoing a medical treatment after being diagnosed with cancer. But Emmie's parents who were at home when this lady fan started shouting the top her voice were disturbed by the incident. The drama lasted for about 20 minutes before the security intervened and got the lady out of the building.
Confirming the news Mahesh Bhatt said, "The woman was seen loitering in the vicinity, she's believed to be mentally unstable. I have told Emraan and his family to take this seriously and be careful. Stalking is the price of stardom. John Lennon had to take a bullet from an obsessive."
We hear that this incident has left Hashmi shocked and he is likely to file an FIR once he is back in Mumbai.