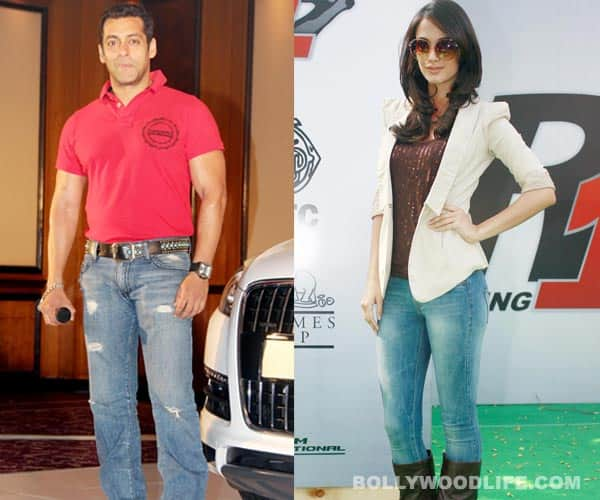 After thinking and re-thinking, we hear that the Khan brothers have gone back to the young beauty who was their initial choice for the ambitious home production
She was always the first choice to play Salman Khan's love interest in the Biblical superhero Samson-inspired action drama Sher Khan. But Angela Johnson's over-enthusiasm to attend parties and romance hottie Ranbir Kapoor reportedly cut short her entry into B-world even before it really happened.
Producer Sohail Khan and his superstar brother felt that the model-turned-aspiring actor was no longer the right choice for the leading lady's part. Her over-familiarity with the media and aam janata would mar the curiosity around her when the film released, they seemed to think. To complicate the issue further, the gal was seen in a cola commercial with Mohan Babu, Namrata Shirodkar's hubby, at a time when she was rumouredly asked to keep a low profile. But, as our winged spy who flew to us straight from of the Dabangg dude's Bandra residence told us, "They explored other options like Katrina Kaif, Priyanka Chopra, Sonakshi Sinha and Deepika Padukone for the role. But none of them, for various reasons, seemed to be an ideal choice for the heroic plot."
After a lot of scratching of heads and racking of brains, Sohail and Salman have changed their minds and gone back to the dainty Angela. They feel that the fragile model is perfect for the feminine yet athletic role. While the makers of Sher Khan haven't sent out an official statement as yet, our feathered friend told us the young model has signed on the dotted line for the movie.
We think finally the Tiger has found his sherni (tigress)! Or has he? Let's wait to know the truth.