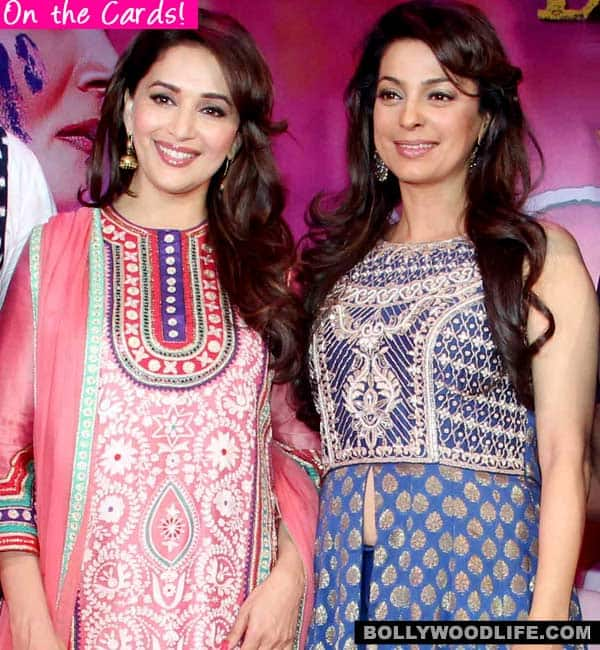 Leading ladies of the 90's, Madhuri Dixit and Juhi Chawla come together for Gulaab Gang. Will it benefit their careers? Does it take them forward or does this film fall below expectations? How do their individual careers move from here? Tarot reader Shruti Chopra has a look at these two icons..
Gulaab Gang is a film with multiple ingredients – aggression, compassion, and some engaging give and take between the characters. But does it rake in money at the box office? Yes it does. The Two and Five of Pentacles reflects a slow but steady start. It's word of mouth that will get audiences into the theatres. The King of Pentacles reassures the makers of success and accomplishment.
Madhuri Dixit-Nene started her year with Dedh Ishqiya. Her work was respected, but with Gulaab Gang she takes this a step further. The Ace of Pentacles, Wheel of Fortune and the Five of Wands all in combination show Gulaab Gang to be a bit of risk for Madhuri – it certainly pays off as her skills will garner instant appreciation. This is great, but it raises the question of whether such not-so-commercial genres are the way ahead? This style of film making adds to her versatility, but it won't be the only route to her continuing successes. Commercial films, especially Comedy will work in her favour.
In the recent years, Juhi Chawla has had her career struggles. Her work has always been liked, but taking the adulation ahead hasn't been so easy. Gulaab Gang offers her this much desired and deserved change. The Justice and Temperance cards are balanced, but the Fool card advises Juhi to take some fun risks – it's during such risks that she will find her career uplifting film. Gulaab Gang offers the platform, but it will now be up to her to grab opportunities within the next ten weeks.
One question remains, who benefits most from Gulaab Gang? Instant benefits will go to Madhuri. The right scripts, challenging work and well defined characters will be presented to her. Whereas, it will be a little slower for Juhi, but as the weeks pass, intriguing scripts will come her way and justifiably, she will be able to demand more money for her work. Overall, Gulaab Gang not only does well at the box office, but it also propels their careers.