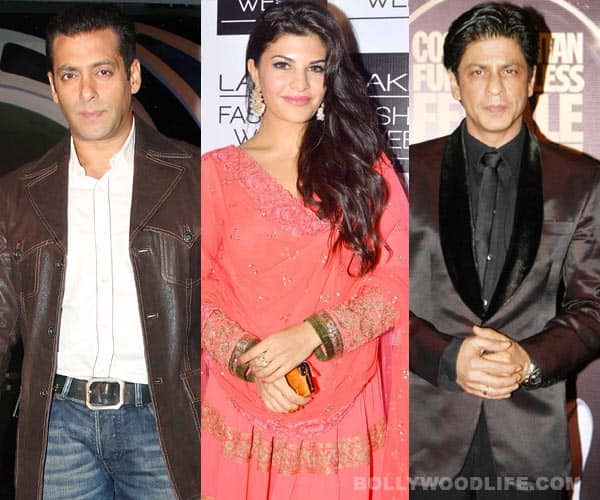 The Murder 3 starlet has found herself in a sticky situation. Jacqueline will start shooting for Salman starrer Kick today but she is also a part of SRK's 'Temptation Reloaded' which will tour Malaysia in February
For the first time, Jacqueline Fernandez and Salman Khan will share screen space in Sajid Nadiadwala's debut directorial venture Kick. We are sure the Sri Lankan beauty is super excited considering Kick is a big project. But here's the twist in the story – The Housefull 2 actor has also committed to Shahrukh Khan's Temptation Reloaded. Since the Malaysian leg got cancelled last year, their show will now take place on February 15. At the same time, Jacky has to shoot for Kick as well. Now that's a tough spot to be in, hai na? Reportedly, the organisers of Temptation Reloaded spoke to Sajid and requested him to let Jacky be part of their tour. However, we hear the Kick director isn't willing to let his leading lady go.
"With Jacky shooting for Kick on the same day, we're not sure if she will be a part of the Malaysia tour. The organisers may have to replace her" said a source to tabloid.
Mohammad Morani, the organiser of Temptation reloaded said to the tabloid, "I spoke to Sajid about the same – it turns out that he is shooting key scenes with a lot of dancers and I can understand his situation. That said, Jacqueline's company has given me her dates, so now this is a matter that needs to be sorted out between Sajid and the company."
Well, Jacky sure has a tough decision to make. Will she opt out from Salman's Kick? Or will the B-town beauty say bye to Shahrukh led Temptation Reloaded? Only time will tell but we hope her rapport with Salman and SRK doesn't get affected irrespective of what she decides to choose!