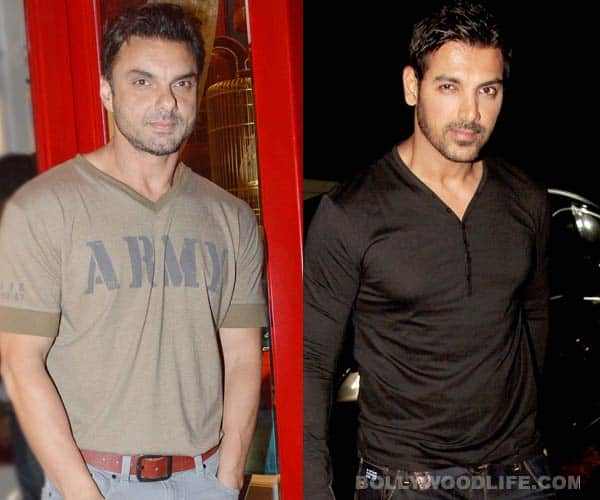 The two well-built actors are gearing up to play the role of Gama Pehlwan in their forthcoming films
Remember how there were multiple movies made on the life of Bhagat Singh a few years ago. Ajay Devgn, Bobby Deol and Sonu Sood essayed the same role in different movies. Looks like history is repeating itself. This time it's Salman Khan and John Abraham who seem to be equally fascinated by Gama Pehlwan's story. While Sohail Khan will play title role in the movie that will be produced by bade bhaiyya Salman and directed by Puneet Issar, John will play the character in the movie that will be produced by him and directed by Parmeet Sethi.
For the Salman movie, Puneet has already roped in Olympian Sushil Kumar to train Sohail for the part. The actor will have to weigh about 99 kg to fit the role. The team is also scouting for foreign wrestlers who can be part of the movie as Gama had defeated many opponents from other countries. As for John movie, the actor is already in great shape but there was buzz that he may go through some intense training for the character.
While Parmeet has been working on the project for three years, Puneet says he has been working on it for five years. They also have registered titles for their movies with the Film Writers Association. Now it remains to be seen whether the present day situation causes a rift between Salman and John yet again.
About Gama Pehlwan
Ghulam Muhammad Gurjar, who was popularly known as the Great Gama, is among the greatest wrestlers of country. After India acquired independence in 1947, Gama moved to Pakistan. The John Bull Belt winner remained unbeaten till death in his career spanning over 50 years.
Another wrestler!
Akshay Kumar and Sidharth Malhotra will star in the remake of the Hollywood film Warrior that will be produced by Karan Johar and directed by Karan Malhotra. The movie is about two brothers who face each other in a martial arts tournament. The Hollywood movie starred Tom Hardy and Joel Edgarton. For the desi version, Sidharth will be trained in Mixed Martial Arts.