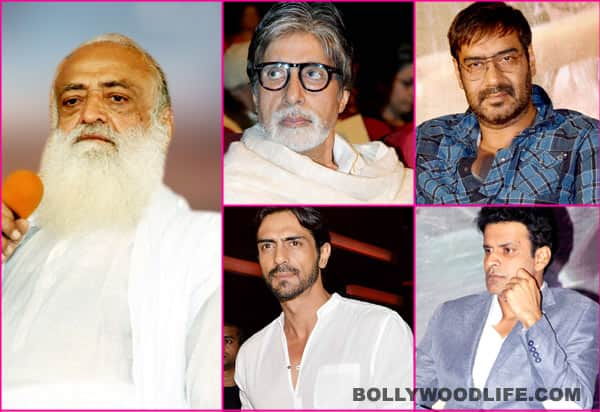 After telling his version of the Anna Hazare story on the big screen, Prakash Jha now seeks inspiration from godman Asaram Bapu. But he has to find the right actor for the role…
Prakash Jha is all set to make another real life story come to life on the big screen. If the buzz is to be believed, the Satyagraha filmmaker's next will be called Satsang. It is to be based on the life and times of notorious godman Asaram Bapu. And the contenders to play the lead come from Jha's own gang of guys – Amitabh Bachchan, Ajay Devgn, Arjun Rampal and Manoj Bajpayee. Now we all know the filmmaker's penchant for social issues; he manages to stay in the limelight by picking the right issues to play with at the right time. We also like how this director makes commercial films with social messages and manages to rope in the biggies of B-town to play roles that can often be controversial.
But will any of Jha's actor friends fit the role this time, or should he move out of his own comfort zone in search of new talent? We thought about it and came up with a few reasons why we think that these select actors' deserve to be in the film. Big B's height might not make him the best choice to play the petite Asaram Bapu, but his acting prowess is unquestionable and his age and experience would help too. Not to forget, Bachchan Sr surprised us pleasantly when he did Paa, hai na? Ajay Devgn and Prakash Jha have a successful track record together, they are friends and share a great professional rapport. Ajay has delivered some noteworthy performances in Jha's films and one like this we're sure AJ wouldn't wanna miss out on. Arjun Rampal is one lucky man – he has been a fixure in PJ's more recent films and irrespective of the project's fate, the filmmaker has incorporated a role for Arjun in it. The duo has a mutual admiration club going, and hopefully Jha will manage to finally get Arjun some recognition as a good performer rather than just for his good looks. Manoj Bajpayee – he ranks first in our list of Jha faves – is one actor who can do it all. And despite reports of the filmmaker and Bajpayee having had a fallout, we think that MB can carry the responsibility of this performance with ease.
Who is your pick to play Asaram Bapu, BollywoodLifers? Do let us know!